GarageSale Dashboard Widget improved
Ever since Apple added Dashboard to Mac OS X in 2005, GarageSale has shipped with a Dashboard widget, that shows eBay sellers how their items are selling quickly.
While our widget worked pretty well in general, a few of its shortcomings that surfaced throughout the years made us start work on a complete rebuilt. Therefore we are introducing today version 5 of the GarageSale dashboard widget: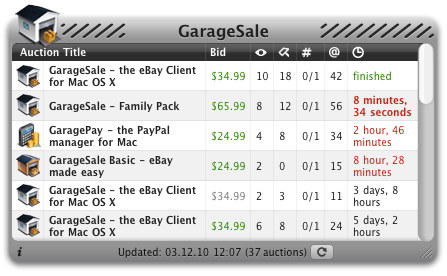 The GarageSale dashboard widget is now completely self contained and doesn't require a separate background process anymore. It works for users who authorized their eBay account for use with either GarageSale or GarageSale Basic.
The new widget downloads your current selling status only when the Dashboard is invoked. This reduces your Mac's CPU and network usage and will certainly make eBay's API server team happy.
The widget is available for download on this page.