Tuesday, July 3rd, 2007
We just released a new beta version of GarageBuy, our new application for searching and bidding on eBay: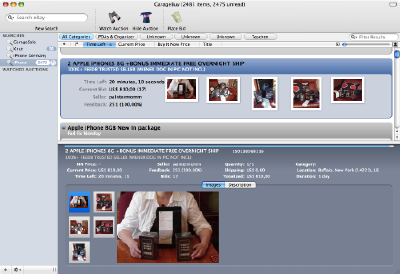 GarageBuy 1.0 Beta 5 fixes a few glitches present in earlier development versions. If you are using any of the earlier beta releases, you should definitely update to this version.
GarageBuy is the first Mac application featuring eBay-certified bidding functionality. Bids can be placed instantly without having to wait for all those web pages to load.
It also features an intuitive Gallery view, which loads as many images from your found items as fit on your screen. You don't have to open each single listing just to see how the item looks anymore.
Just start your existing copy and the built-in update mechanism will install the current release on your mac automatically.
For more more information and the download link, please visit the GarageBuy home page.