Friday, May 29th, 2009

All of GarageSale's 136 multi-layout auction designs now support eBay's new 'View Item' page, which will be rolled out to most buyers in mid-June. Every single design was tweaked to ensure your items look perfect after eBay switches to the new design in all major web browsers.
We also updated GarageSale's built-in editor to match eBay's redesigned interface. You can see it in action in our updated GarageSale Basics Tutorial.
Also new is support for Twitter. GarageSale can now automatically update your Twitter status when you post items to eBay.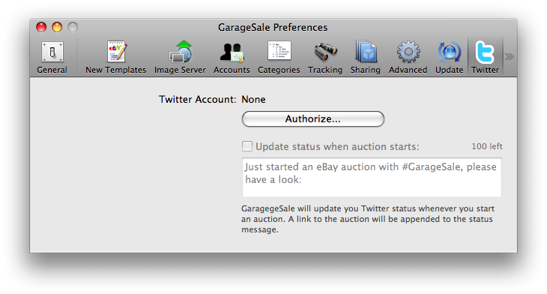 You can see what people are selling with GarageSale by searching Twitter for the #garagesale hashtag.
The new version automatically archives web pages of ended auctions. You can still view your items after eBay's 60 day expiration period.
When revising running auctions, you can now choose which parts of your auctions to revise. This gives you you the chance to revise parts of your auction when eBay's policy forbids updating the whole auction.
The complete release notes are available at the GarageSale wiki.
GarageSale 5.3 is a free update to all registered user of version 4 or 5. Updates from version 3 are available at USD 14.99 from Kagi.