Friday, October 24th, 2008
GarageSale 5.1 is now available for download.
This release supports the new fixed price item durations (30 Days and 'Good Til Canceled') eBay recently introduced.

GarageSale 5.1 lets you specify your return policy in the new more detailed format soon to be required by eBay for all items.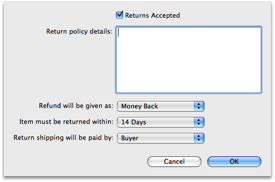 We also included the 'International Site Visibility' listing upgrade, which makes your item appear in similar categories on other eBay sites. Please see the official documentation for more information about this feature.

For a complete list of what's new please check out the GarageSale version history.
GarageSale 5.1 is a free update for users of GarageSale 4 or 5. Updates from older version are available at the Kagi store starting at $14.99.