Better than ever: The new GarageSale 6
With GarageSale 6, we are bringing eBay selling on the Mac to a whole new level: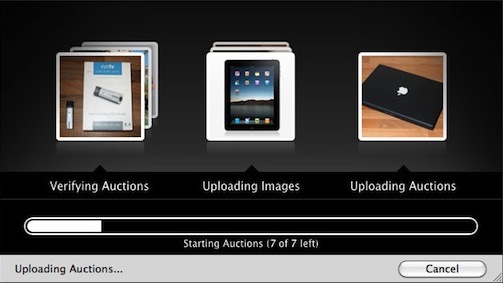 More Control
GarageSale's new inspector window makes it easy to edit most aspects of multiple auction templates at once. Batch changing has never been easier.
The new design properties give sellers fine-grained control about the way an auction design displays their auction. It's now possible to easily change the appearance of many elements (e.g. images, subtitles, thumbnails) on the auction page by clicking a single button.
More Features
By supporting eBay's variation format, sellers can now offer different styles of the same product in a single listing.
GarageSale 6 also includes support for eBay's new condition flag, which will become mandatory for many categories on July, 27th.
More Speed
GarageSale 6 uses Apple's CoreData technology for data storage resulting in drastic performance gains, especially for huge auction libraries with more than 10,000 items. We also made GarageSale run in 64-bit mode, which makes it run even faster on supported Macs.
That's just the tip of the iceberg. Please see the features page for a more detailed list of changes.
Pricing for GarageSale 6 starts at 39.99 USD/EUR. Existing users may upgrade to GarageSale 6 starting at 16.99 USD/EUR. See here for pricing and upgrade details.