GarageSale
Make your business on eBay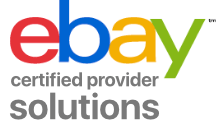 Buy
License: 39.99
Upgrade: 19.99

Download Now
Version 7.0.14
What's New
New in Version 7.0.14(2018-04-30):

adds graphical indicators in listing editor mode for gallery images and images with captions
fixed an issue where the 'Exclude Locations' list in the shipping panel remained empty
fixed an issue where incomplete category data was downloaded from eBay when no or an invalid eBay token was available
the list of fields selected to be searched from the search popup menu is saved
when manually re-listing items, the re-listed listing is now selected instead of the original listing
re-listed listing are now inserted into the hierarchy at the correct position
fixed a possible crash during re-listing, when the re-listed became part of a smart group
improved 'Reveal Original' command for smart groups items
fixed a possible crash during re-list when no account token is present
multi-selection overview updates after smart group rules are changed
increased width of number input field in smart group editor
prevents an eBay warning about 'eBay Plus' from showing up when listing on eBay Germany
added a 'Reset Overview Sort Order' command which restores outline view sort order in overview table view
inventory CSV import now accepts semicolons as column separators
added an AppleScript example demonstrating the usage of the 'duplicate listing' command
unified spelling of several menu commands
menu of external image editors is alphabetically sorted
fixed a bug that caused smart groups with rules for certain amounts to show wrong results
when moving original listings during a relist to a new folder, that folder doesn't get automatically expanded anymore
when switching to search mode and the original selection cannot be restored, the first found item gets selected
best offer details are available as separate field for revising listings on eBay
amount columns in table overview now correctly update when amounts change
fix a crash when changing certain attributes through popups for a listing selected in a smart group
fixed a display issue with sales tax inspector
improved detection of "feedback received" flag
the 'quantity sold' property for orders is now available exposed through AppleScript
when importing listings from an XML file, images from an inventory item linked through an SKU are no correctly added to the imported listing
shipping destinations for international shipping services can be set via AppleScript
disabled accounts are no longer available for starting listings are creating scheduler events
the 'show only exact matches only' search option is now saved to preferences
content area correctly reflects current selection after an drag & drop operation in outline view
selection is retained when switching between table and image overview
when activating image overview, it shows correct content, when outline view selection was previously changed while in table overview
the 'Cancel' button in the 'Wait on Quit" panel now works correctly
fixes a bug where changes to the item specifics weren't saved when the popover was closed by clicking on another listing
text blocks are inserted into correct location when using editor mode's to edit HTML or Markdown description
listing description in editor mode gets refreshed when changed via AppleScript
for 10.10 and up
Listing Counter

This is the number of all currently running eBay listings, created with GarageSale. This makes it the most popular eBay tool for Mac!
License Options
Single User License
You can use this license on up to two Macs if you are the only one using it.US$ 39.99
Family License
Allows the installation of GarageSale on up to 5 computers in your household or company.US$ 65.99
Upgrade Licenses
Single user license upgrade from a previous GarageSale version.US$ 19.99
Family license upgrade from a previous GarageSale version.US$ 24.99
Currency depends on your location. Additional tax (VAT) may apply depending on buyer's location.
To purchase a license simply open GarageSale and choose "Buy License..." from the "GarageSale" menu. This opens the built-in license store.
Upgrade license:
GarageSale 7 is the first paid upgrade since 2010. If eligible, GarageSale will offer you the upgrade license in the license store.
Free upgrade license:
If you purchased your GarageSale 6 license directly from iwascoding after August 1st 2015, you are eligible for a free upgrade to GarageSale 7. GarageSale 7 will offer you a free license once you start the purchase flow within the application. Unfortunately this free upgrade is not available for customers who bought GarageSale from the Mac App Store.
Contact us
if you have any questions or check our
FAQs
.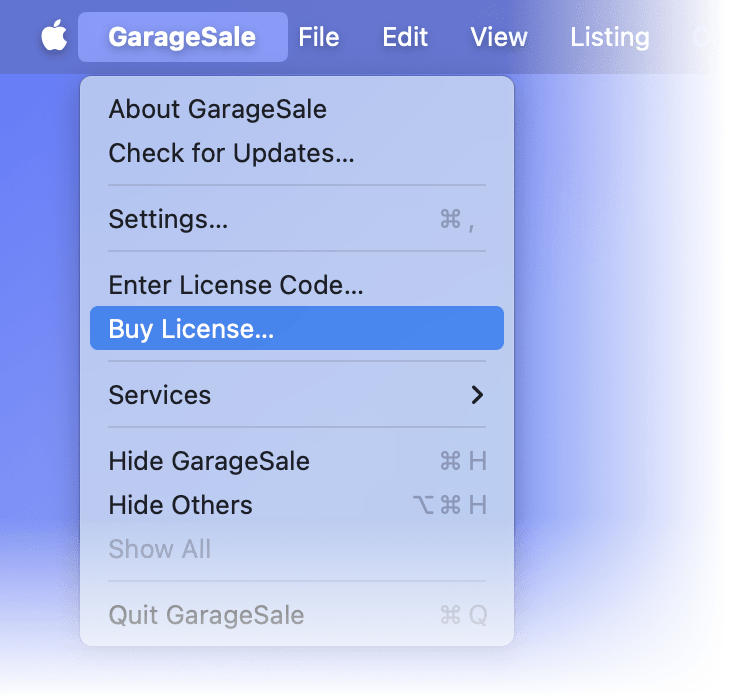 System Requirements:
10.10 and up
Pricing:
US$ 39.99 (Single User License)
US$ 65.99 (Family License)
eBay Account Requirements:
Due to eBay policies your account must be older than 90 days and have at least 10 feedback points as a seller.
Supported Marketplaces:
eBay (20 countries)
eBay USA
eBay Motors (USA)
eBay Germany
eBay UK
eBay Australia
eBay Italy
eBay France
eBay Austria
eBay Canada
eBay Switzerland
eBay Ireland
eBay Spain
eBay Netherlands
eBay Belgium (FR)
eBay Belgium (NL)
eBay Singapore
eBay Philippines
eBay India
eBay Hong Kong
eBay Poland

This is the number of all currently running eBay listings, created with GarageSale. This makes it the most popular eBay tool for Mac!

See listings created with GarageSale