GarageSale
Make your business on eBay. On a Mac.
Comfortably create, launch and track your listings. Manage your sales and inventory. Simplify your eBay life and use the most advanced eBay seller tool for Mac.
Upgrading from a previous version
Live Listings

Number of active eBay listings created with GarageSale

GarageSale 9 introduces new unique features and support for eBay newest API. See below an overview over the most important changes. GarageSale 9 is ready for macOS Ventura and runs natively on Macs with Apple Silicon chip. Since GarageSale 9 uses a different application identifier, you'll need to grant it access to each eBay token in your Mac's keychain. When the system displays such a permission panel, please click the "Always Allow" button if available.
Support for New eBay API
GarageSale 9 comes with a major overhaul of the underlaying network connectivity to support the new eBay API that will replace the current, deprecated API for attribute and category data.

Also, since January 2023, eBay requires third-party clients to cryptographically sign certain API requests. GarageSale 9 has been adapted to these new requirements.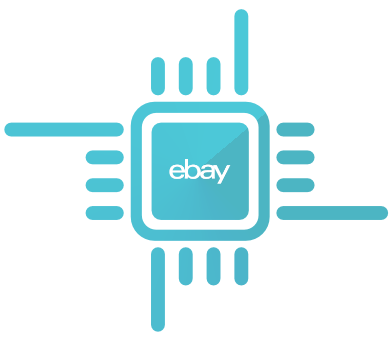 Attach Videos to Your Listings
Improve your listings and provide extra information for your buyers by attaching a video! GarageSale supports this new eBay feature where you first upload videos to eBay so you can then add them to your listings. An added video is automatically displayed in the image gallery of the live listing in the eBay app and the mobile browser.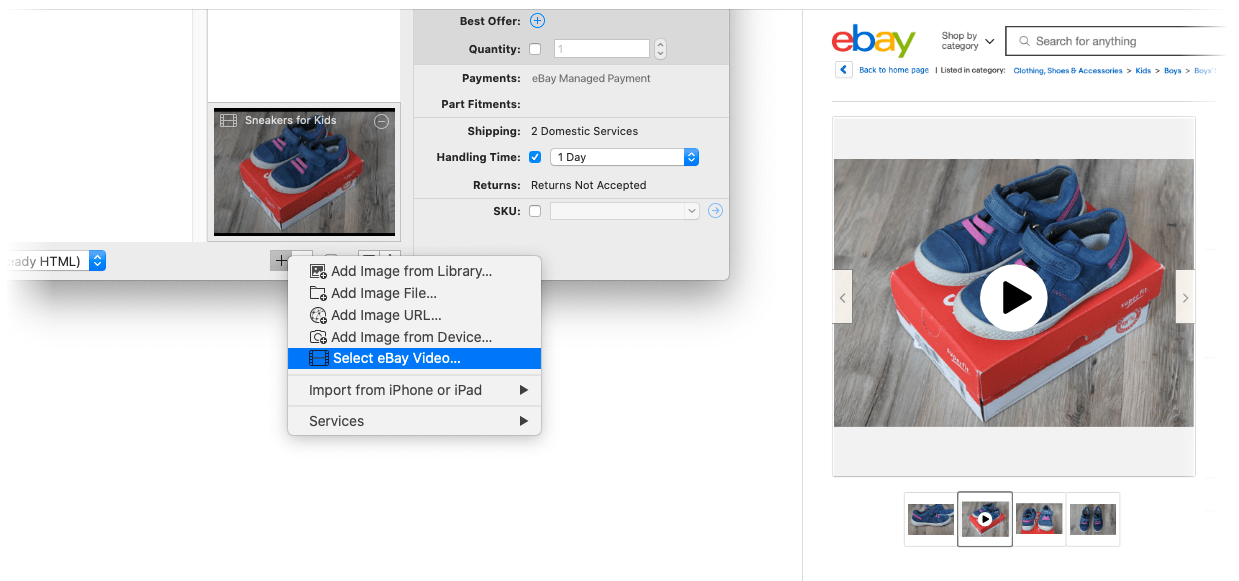 Send Discount Offers to Watchers
When watchers show interest in your product but haven't yet completed the transaction, you can target them with an offer. To do this select Send Offer to Watchers from GarageSale's Listing menu.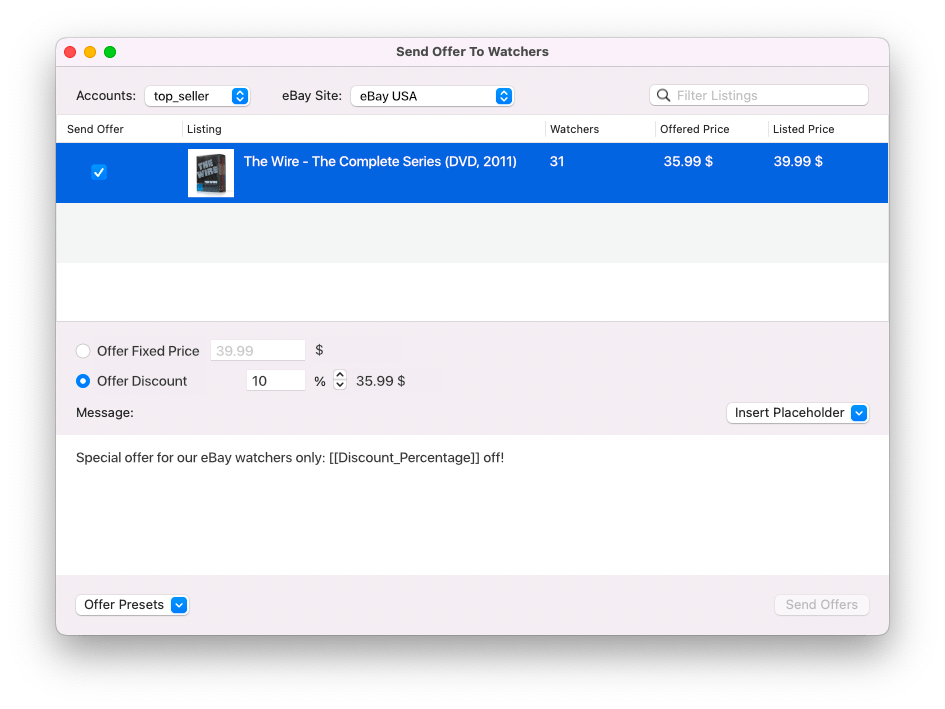 Updated in GarageSale 9.4Run Custom JavaScript to Process Listings
GarageSale lets you define custom JavaScript to process your listings and inventory items, e.g. to batch-edit or validate them. Since these scripts are executed within GarageSale itself, they offer far better performance than AppleScript. You can create and run scripts from the "Show Script Editor Window" command in the "Windows" menu.
In addition you can can hook your own JavaScript rules into GarageSale's Launch Control window to have your listings validated before uploading them to eBay.
GarageSale 9.2
comes with extended JavaScript commands to
manipulate
and
delete variations
.
Starting with GarageSale 9.4
shipping services and package weight can be accessed through JavaScript, allowing for
custom validation rules
in the "Launch Control" window.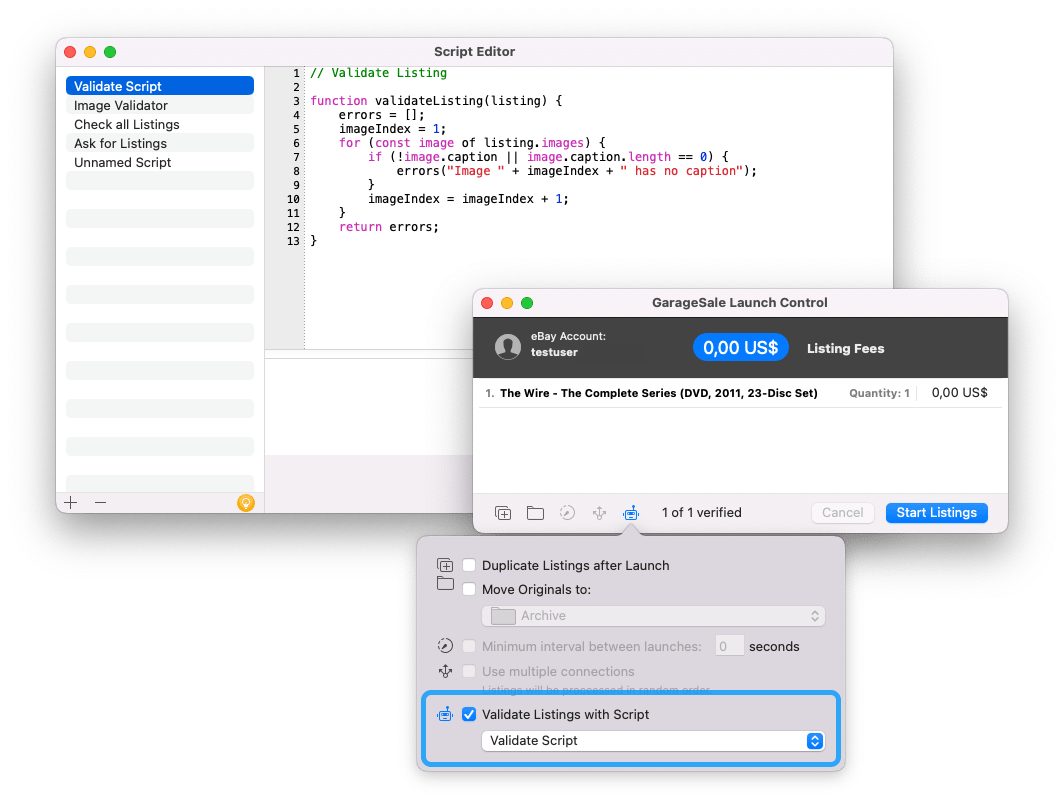 Customizable Toolbar
You can easily customize GarageSale's toolbar by right-clicking on it and selecting "Customize Toolbar". This allows you to change the position of buttons, add buttons or remove buttons you rarely use.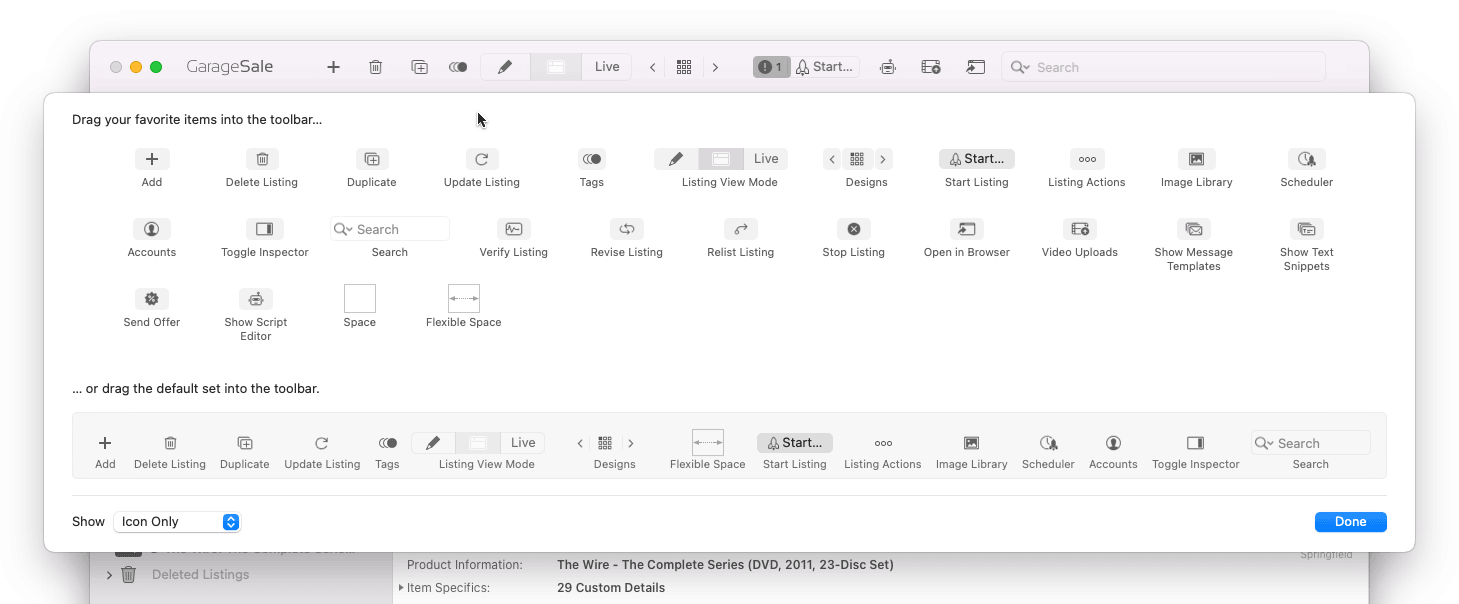 SKU Generator
The new SKU generator function for listings and inventory objects allows you to generate SKUs for multiple selected items in bulk. Just right-click on a group or a selection of items and select the Generate SKUs command.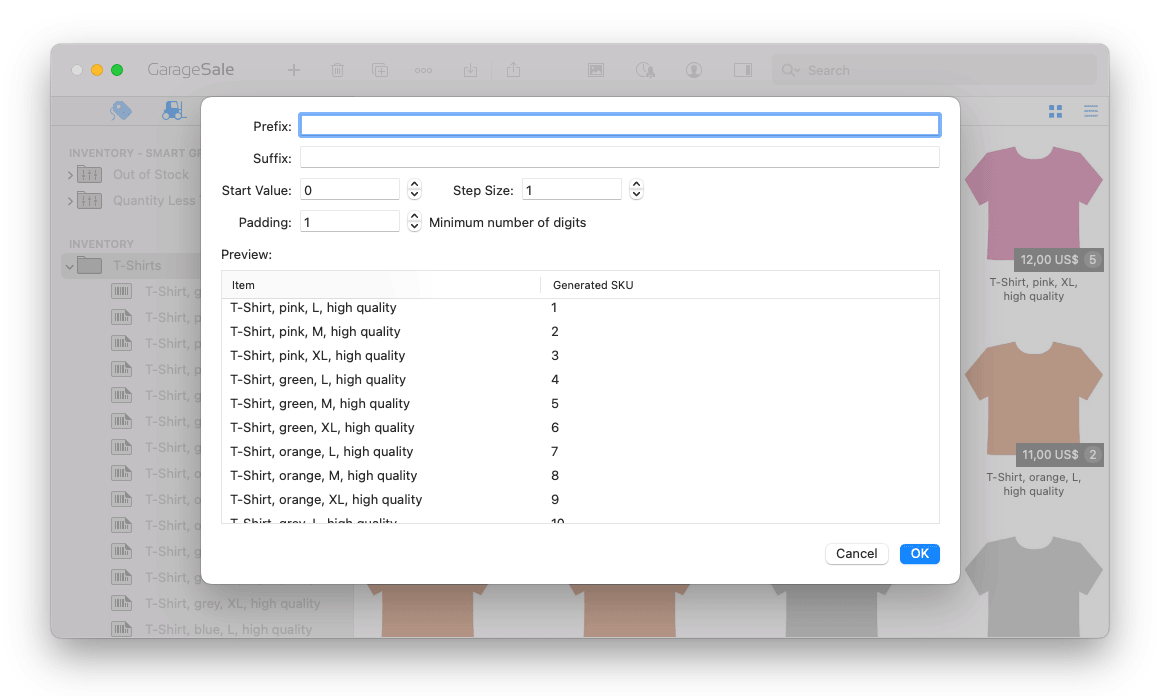 Resizable Inspector
The Inspector where all main settings are located is now resizable. This allows you to adjust its width which makes it easier to see even longer category titles, product names and other details.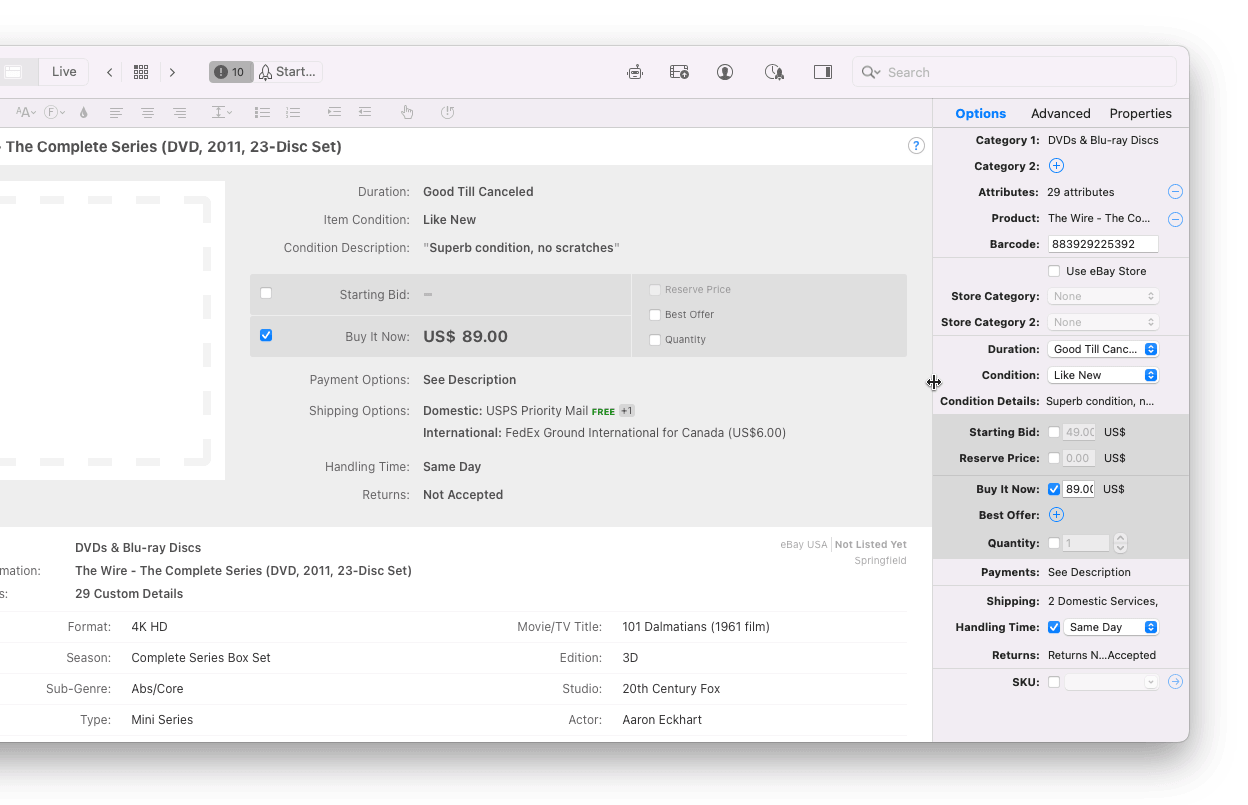 Adjustable Sidebar Font Size
The font size of GarageSale's left sidebar can now be adjusted through the "Sidebar Icon Size" setting in the System Preferences > General (Small, Medium, Large).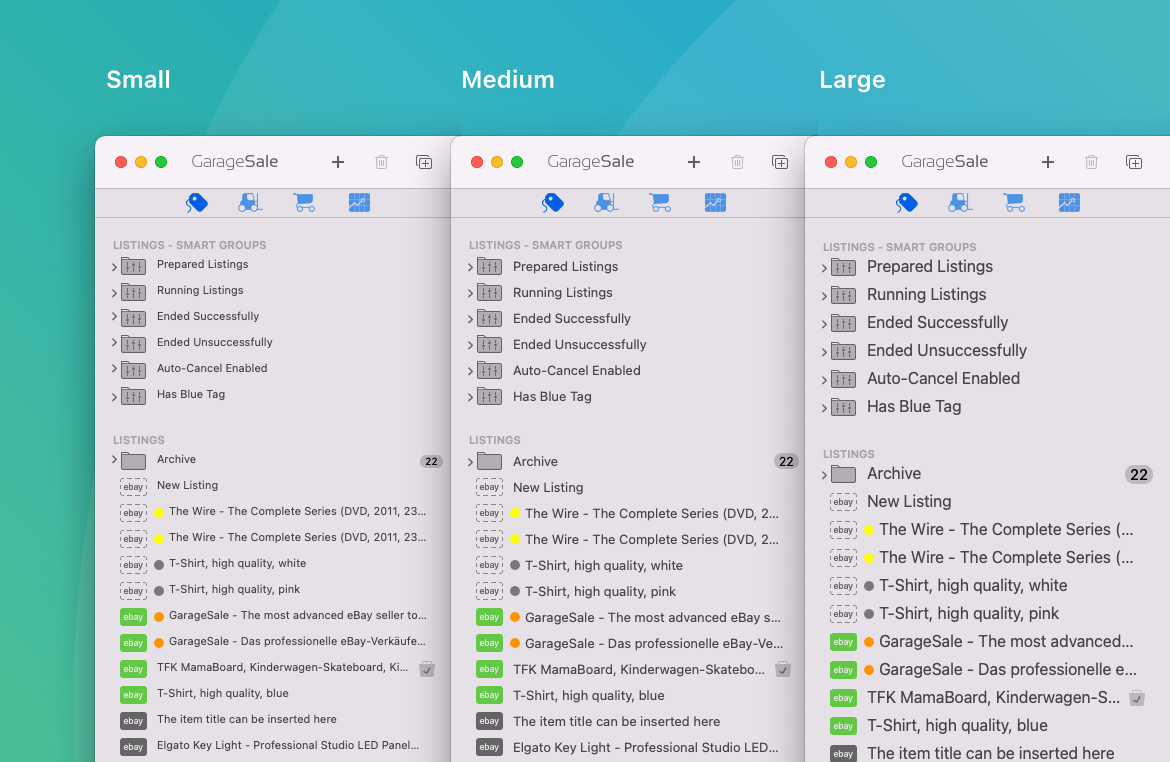 Flag Messages
By right-clicking on a message in GarageSale's Account window you can mark it as flagged/unflagged and as read/unread. The state will be transmitted to (and from) eBay.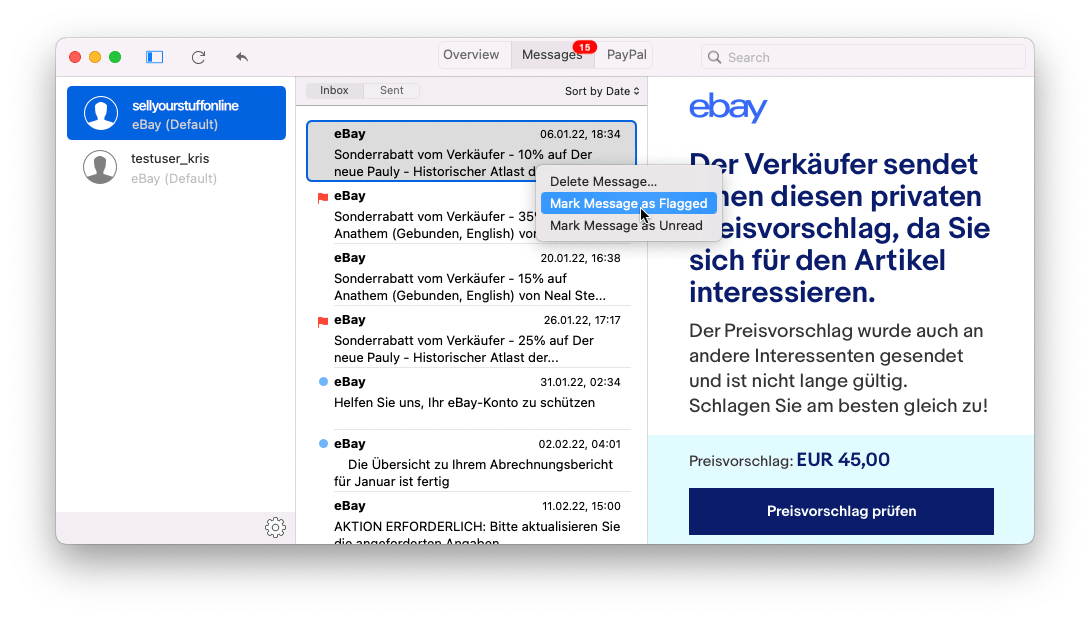 User Properties for Inventory Items
"User Properties" are a way to store values associated with your items but so far they have been only available for listings. In GarageSale 9.1, you can enter them for your inventory items, too!
These user properties will be carried over to the listings you link the inventory item with. Also, when you change a user property in an inventory item, the change is reflected in all listings linked to that inventory item.
In Listing mode User Properties are searchable and can be used in smart groups. Please learn more about User Properties in the
GarageSale help
.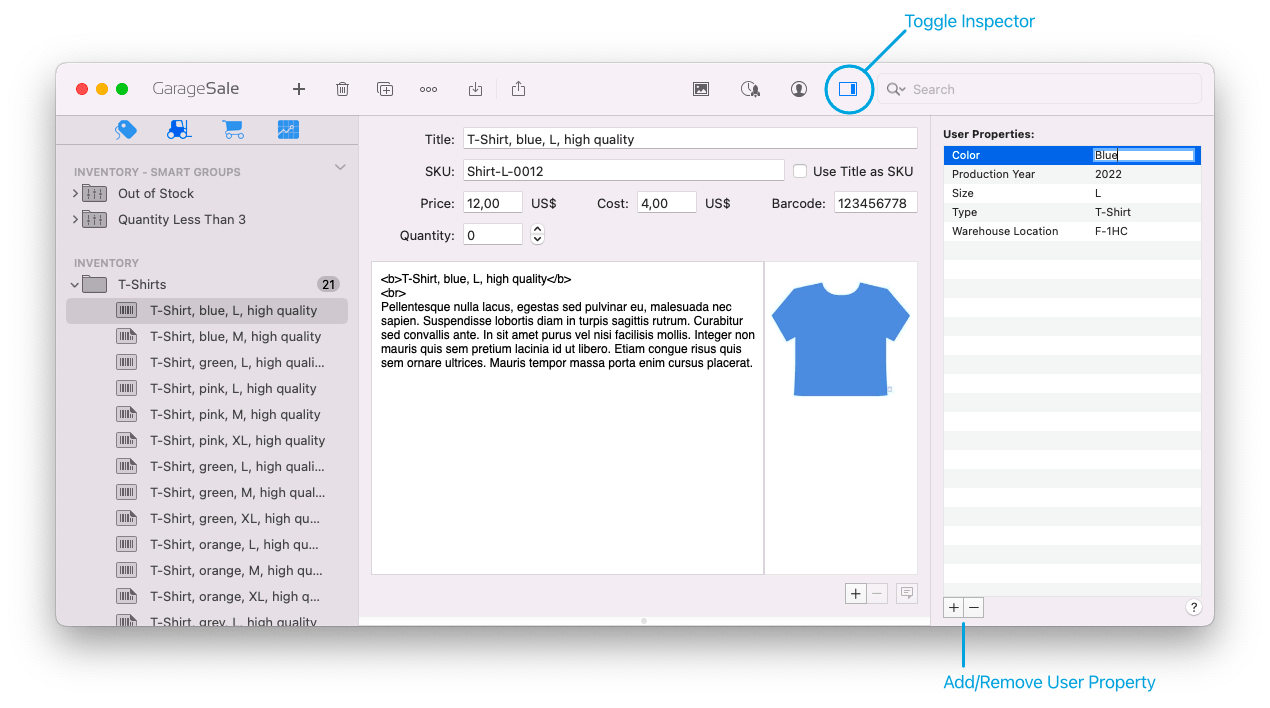 "Apply Remaining Quantities" Button for Variations
In previous versions of GarageSale, when you wanted to update the quantity of your variations, you needed to pay attention to not re-set your variations to their original quantities.
GarageSale 9.1 adds a button to the variations panel, which updates your listing's variations with the current quantity left on eBay. Use the button before making any changes to your variation quantities, to make sure your next "Revise Listing" command produces the expected results.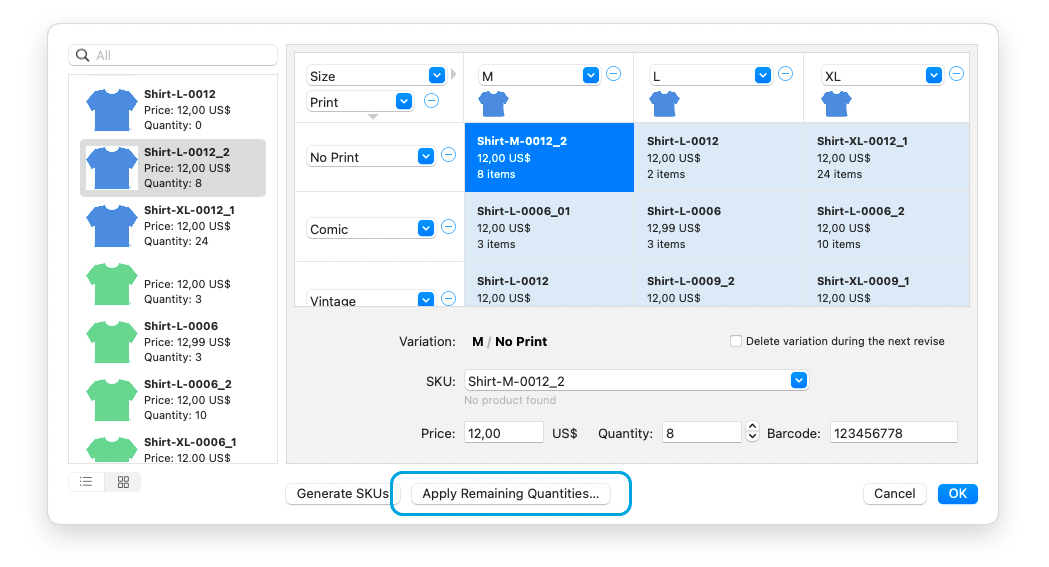 Increased Maximum Image Count
The maximum image count for eBay hosted images has been increased from 12 to 24 images/listing.
For GarageSale's picture service the maximum image count has been increased to 30 images/listing.
If you need to add even more listings to your item description:
GarageSale Pro
supports up to 50 images/listing with GarageSale's picture service selected.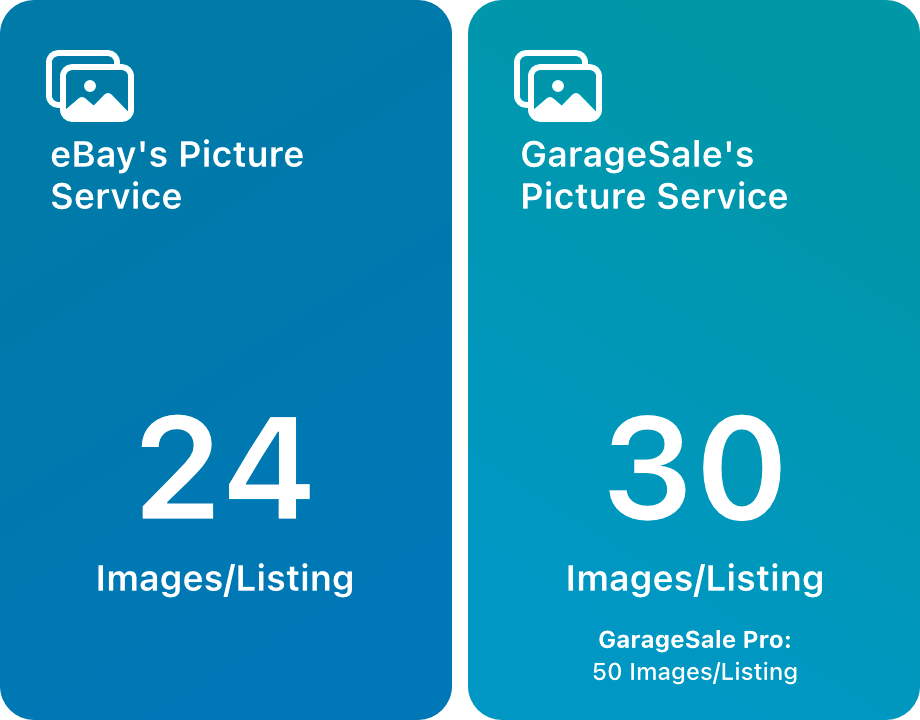 CSV & TSV Import
GarageSale can already import listings from files in arbitrary CSV formats and starting with GarageSale 9.2 even files with suffix ".tsv" files are supported.

Also, item attributes with multiple values are now supported (e.g. multiple values for the attribute "Features"). Values need to be separated by a pipe ("|") character in your CSV/TSV and the eBay category needs to support multiple values for the specific attribute.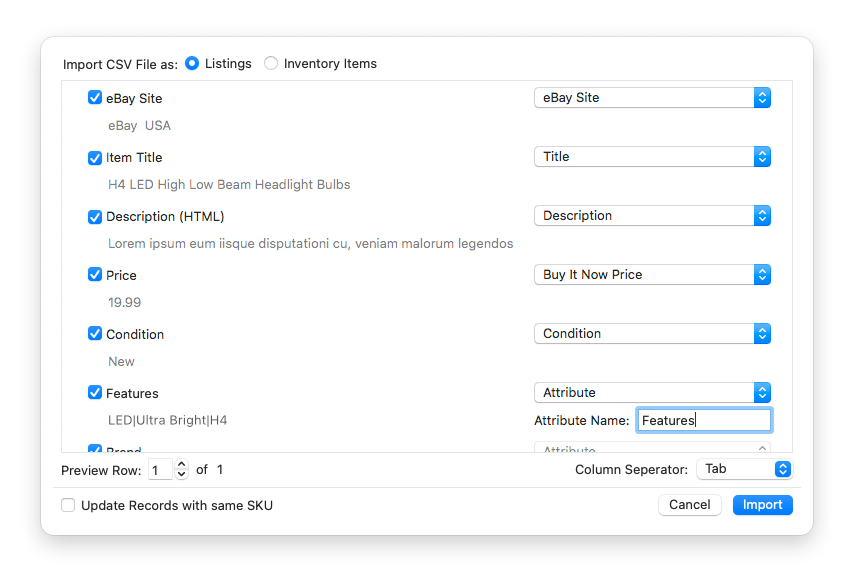 New in GarageSale 9.3"Use Profiles" Checkbox
The Listing inspector now offers a single checkbox for toggling eBay "Business Policies/Profiles" for Payments, Shipping, and Returns at once. If you want to use profiles, just tick the checkbox, then select the desired profiles for Payments, Shipping, and Returns.
Please find more info about profiles in the chapter
eBay's Business Policies
.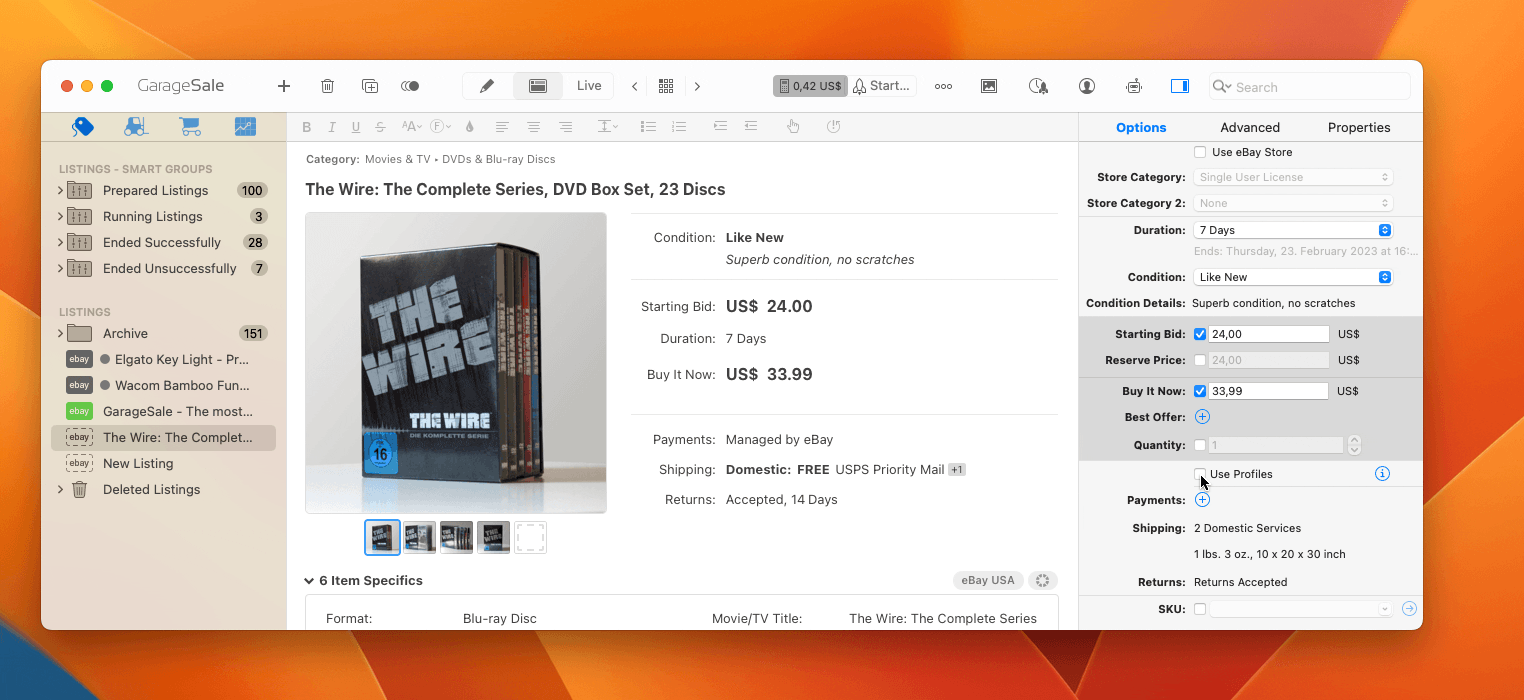 New in GarageSale 9.3Refreshed Preview Mode
Modernized: The Preview mode now better mimics the current eBay website, giving you a better idea of what your uploaded listing will look like.
Cleaned up UI: Unused options no longer clutter the view. Addable options and controls are revealed as you move the mouse over the Preview.
Profiles: You can now select profiles for Payments/Shipping/Returns directly from within the Preview. (If the new "Use Profiles" checkbox in the Inspector is selected.)
Improved image gallery: Now displays up to 24 images and offers a new "Quick Zoom" feature that lets you quickly inspect your photos.
Editable attributes: Item specifics can now directly be edited in Preview mode.
To make the changeover easier for you, see the chapter Introducing The New Preview Mode for more details.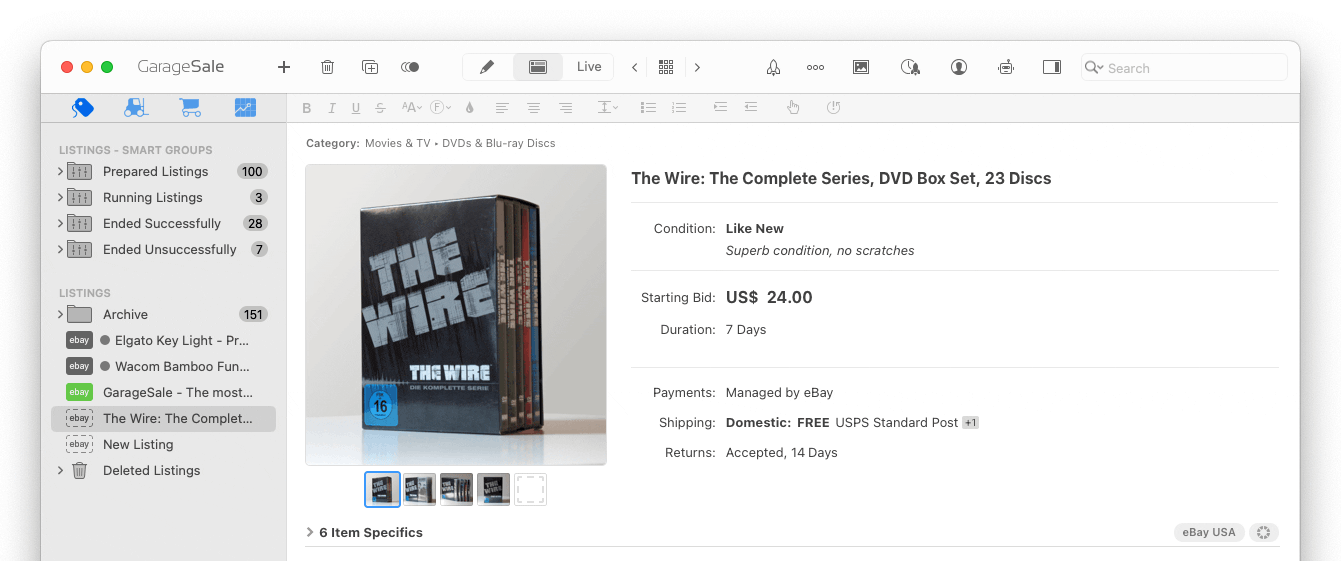 New in GarageSale 9.4Edit Item Specifics Directly in Preview Mode
Item specifics can now be edited directly in the Preview Mode interface. Easily add, select, enter, or remove attributes.

New in GarageSale 9.4New Photo Browser
On macOS 13, GarageSales uses the system's new and improved media browser window, which provides quicker and more comprehensive integration with the Photos app.

Images can be added to a listing via drag & drop or just by using the "Add" button in the bottom right corner.
(Requires macOS 13 Ventura)

Hint: When using the "Add" button in the new image picker, the added photos are sorted by the order they were selected! (unfortunately does not apply to drag & drop)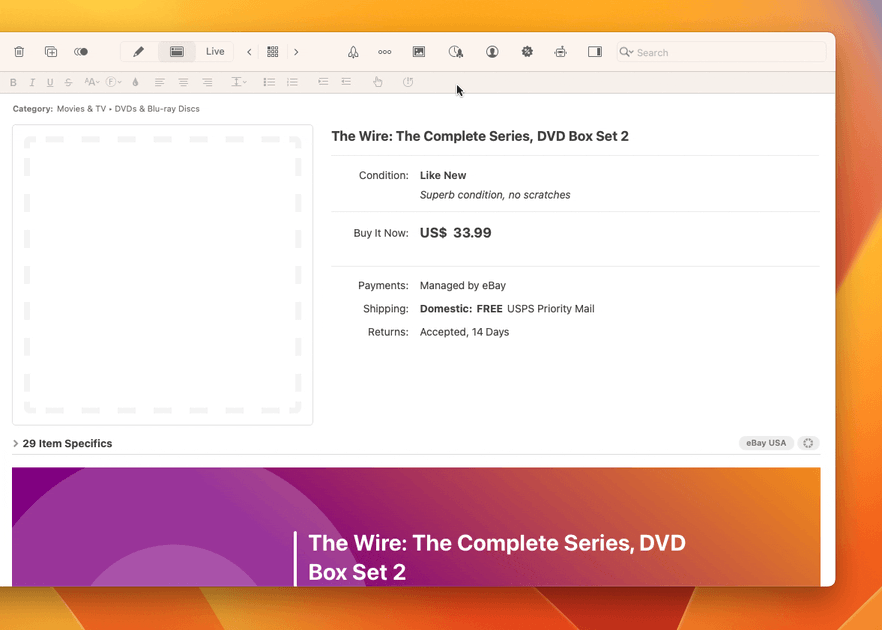 New in GarageSale 9.4Selective Launch
Even if some listings received errors during verification, you can now continue with the "good" listings that didn't receive errors. Previously, Launch Control would block the launch process for all selected listings if any of the listings received an error.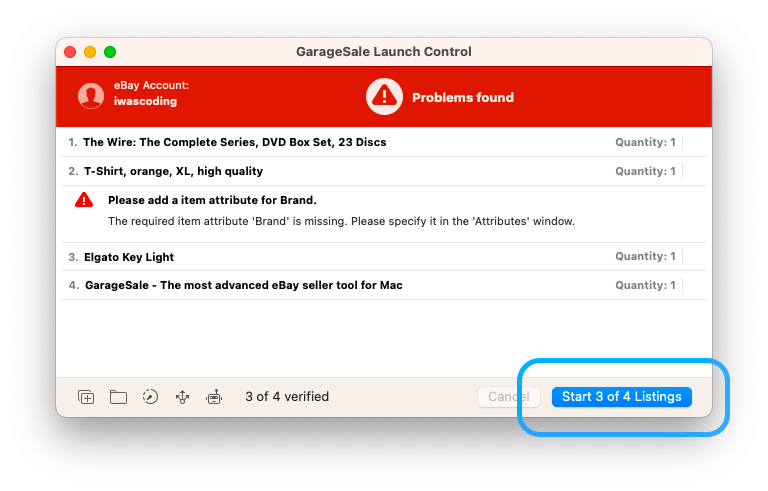 More improvements
Workflow
Improved smart group performance
Faster duplication when using many smart groups
Fixed a re-attach bug with popover windows
Fixed title search for orders (requires rebuilding your index to work for existing orders)
More performance improvements
Performance improvements when selecting a larger number of items.
Search Results: Added "Reveal Original" context menu command

You can now right click a listing from the search result lists, and choose "Reveal Original". Doing so will exit the search mode and reveal the selected listing in the regular GarageSale's hierarchy.
Previously, the "Reveal Original" command only worked on items in smart groups.

Search Results: New "Show In Hierarchy" context menu command for listings in search results

When right clicking a listing from the search result list, the new "Show In Hierarchy" submenu will show all the enclosing groups for that listing. Choosing an entry from this submenu, will exit the search mode and select the corresponding group in the left hand outline view.

Search field: The "Restrict Results To..." command in search field popup now also works for Smart Groups

Previously, the "Restrict Results To..." command in the search field popup only worked for regular groups. Now, you can also activate that option when your selection is (in) a smart group. Doing so will restrict search results to items in the selected smart group.

The "Move Selected Items To" command now moves the whole group selected in the outline view, instead of just the group's content.
Added count badge when dragging items in outline view
Listings
Fixed an issue that could cause GarageSale to hang when opening the "Attributes" panel
When using the "Add" button in the new image picker on macOS 13, the added photos are sorted by the order they were selected by the user (unfortunately does not apply to drag & drop)
Added image rotation commands to the Listings menu (Listings > Images)
When exporting listings into CSV files the Barcode now is included
When using eBay's Picture Service additionally to GarageSale's image service, the listing page will show up to 24 images in the eBay provided slideshow
Fixed an issue with the Add button in the video upload panel
Listing fees returned from eBay API will no longer be shown in Launch Control window, if listings are free for private sellers on eBay Germany
Removed "Hit counter" option, as it is no longer supported by eBay
Moved to a new API for selecting eBay charities
When downloading listings states from eBay fails, GarageSale will now retry more often with a longer delay between retries. This should increase the reliability of the auto-cancel and auto-restart features in case of brief internet outages
When uploading images to eBay, the image DPI is always set 72 dpi, to prevent false image size alerts from eBay
Fixed crashes when using design property color picker on macOS 13 Ventura
Fixed "IAF Token" eBay error when uploading images using GarageSale's scheduler
Added a "Number of Views" smart group property in Listings section
New [[attribute.values]] keyword lets you include values for multi-value attributes in your description (e.g. multiple author names or multiple features)

Sample code:
[[foreach attr item.previewSpecifics attLoop]] [[if attr.name=="Author"]] [[foreach authorName attr.values valueLoop]] Author: [[authorName]] [[endforeach valueLoop]] [[endif]] [[endforeach attLoop]]

More details and samples

Can import item attributes with multiple values from CSV files

• Values need to be separated by a "|" character
• the selected eBay category needs to support multiple values for the imported attribute

GarageSale Manual: Importing from CSV

Added new icon in Listing outline view when both, auto-restart and auto-cancel, are enabled
When importing from GarageSale Scout, GarageSale's iOS companion app, you can now define if you want to import the items as listings or as inventory items.
Also, there's a new "Import Description" option. You might find this feature useful if you have defined a "master listing" in the GarageSale preferences > eBay > New Listing that already has a description that should not be replaced.
Shipping options strings shows dimensions and weight when calculated shipping is used
A warning is shown when you are trying to open 10 or more listing links in your browser (via the "Show Listing in Browser" command).
Image upload operations show the name of associated listing in the "Activity" window.
Fixed quirks with determining the correct type of barcode
XML import works for design properties representing colors
The "Move originals to Trash after duplication" checkbox works even when selected items are part of a smart group
Added a simplified "Start Listings" toolbar item for older macOS versions, which had problems displaying the standard "Start Listings" toolbar button
The prospective end time for auctions is shown below the duration popup in the listing inspector
Import from eBay panel:

Part Fitment information is imported from eBay via the "Import from My eBay" command

Editor Mode:

Added "Show In Finder" command to image context menu

Sometimes it's useful to get hold of the actual image file. Use this new context menu command in the Editor mode in these cases.
Iventory
Added "Location" field to Inventory section
Can now filter by user properties and "Location" field in inventory smart groups
Orders
The order section will show the location entered in the inventory item linked to the listing
Added "Seller Account ID" and "SKU" smart group properties in Orders section
Can list all different fees and the Total fee. Click on it to see fee for usage of eBay's payment service.
Replaced "Feedback Left" checkbox with "Leave Feedback" button, when no feedback was left yet.
Added context menu item to change sort order for subsequent sort commands.
GarageSale downloads images for orders if the listing for the order (and thus an image for the order) is not available in GarageSale's library.
The listing table row height now depends on the setting of the "Sidebar icon size" settings in the macOS General preferences.
Reports
Shipping costs are no longer added to profits if you didn't fill in "Actual Shipping Costs"
Added "Total Fee" view option
Preferences
The "GarageSale Pro" preferences section shows the date and time when the listing counter will be reset
Added a new Preference settings (under eBay > Advanced) brings up panel for inserting specific attributes into new listings.
Preferences window remembers it's position
Apple Script
A listing's variations can be manipulated via AppleScript
The new "Tag" property on listings is now accessible via AppleScript
Workflow
Supports eBay's new authentication mechanism, which is required for newer eBay API calls
When GarageSale is already running, images dragged onto its Dock icon will get added to active listing
Added native support for Macs with Apple Silicon chip
Improved performance when selecting a huge number of listings and when loading search results
Added "Hide Results From Trash" option to search field menu
Added "Move Selected Items to" command to easily move selected items to a different group in the outline view
Added menu commands to cycle cursor focus between different parts of the main window
Added menu command (cmd-shift-F) to switch the keyboard focus to the search field
Added "Show Main window" menu command in case you accidentally closed it
Implemented a work-around for broken drag and drop from Apple's Photos application
On macOS 10.13 or later, a faster media panel is used for browsing images from Apple's Photos application
Improved selection behaviour, so items selected in the outline view get immediately selected in the overview (middle area of the window)
When adding new groups, name fields in outline view get selected for easy editing
Improved UI, refreshed icons
Improved startup performance, especially when a lot of listings where selected when GarageSale was last quit
Listings
GarageSale generates a 'mobile summary' from the first 800 characters of your listing description when uploading listings, which does not include GarageSale's version identifier string
The 'Condition description' attribute can now be removed from an active listing with the Revise command
Text entered in the 'user properties' area of the inspector is now searchable and can be used in smart groups
The 'Copy Listing Link' and 'Show Listing in Browser' command in the outline view works with multiple listings selected
Added the ability to export listings to CSV files

Easily export selected listings to CSV through the "File" menu.

A listing's user properties are now accessible from message templates via the [[item.userProps.PROPERTYNAME]] syntax.

This allows you to send messages to your buyers that are custom-tailored to the kind of items you are selling.

Text snippet macros are now supported in the Condition Details field

Instead of typing the same condition descriptions again and again just create text snippets and insert them into the "Condition Details" field. To create new text snippets select "Show Text Snippets" from GarageSale's "Window" menu.

Bulk Find & Replace panel: Added an "Exact search" option for finding the exact search strings, including HTML tags

This option bypasses GarageSale's search index and scans through the entire library, thus it's a little slower than the regular search. To open the Find & Replace panel select "Bulk Find and Replace" from GarageSale's "Edit" menu.

Category popover shows current category tree version in sprocket menu when option key is held down
Shipping options: Package weight can always be edited when "calculated shipping" is used for either domestic or international shipping
Added [[item.projectedEndDate]] macro command to include the anticipated end date in your listing's description

This command anticipates your auto-cancel settings and might let your watchers know that you are planning to end a GTC listing early. Insert it in Editor mode.

Exported listing files can be dragged directly into the listing's outline view
"Private Comment" field is now searchable
Changes to amount fields in the Inspector are immediately reflected in other parts of interface
Shipping options popover doesn't forget current changes when being torn off
Car Parts: multiple found vehicles can be selected by holding the shift key and added to a listing by double-clicking
Car Parts: compatible vehicles can be deleted from a listing
Added a popup in listing overview area for quickly filtering items by state
The "Private Auction" option was re-added
Added options for international returns
Product settings can update listing title/category from chosen product from eBay's catalog product
Size of thumbnail images can be changed in image overview mode via a slider at the bottom
Moved SKU field to first tab of Listings inspector
Removed outdated buyer requirements no longer supported by the eBay API
When using no design, improved HTML code is used for displaying your images below the description
Error message for eBay error 240 shows additional error reason, if sent by eBay
Added Revise, Relist, and End commands to overview context menu
Now always correctly sends "Returns Not Accepted" flag to eBay when "Returns Accepted" checkbox is not selected.
When importing listings from XML files, paths to local files can be specified
The "Paste Listings Components" command lets you now paste images, too
Shipping service table column in shipping options panel is resizable
Shipping services can be hidden via the "Show/Hide" command from the bottom of the "Shipping Service" popup menus
The "Recently Used" menu in the category browser now gets updated properly
If only the barcode of a product is specified (but not a product from eBay's product catalogue), eBay should not add its catalog information to your listing, unless the "Included additional information" checkbox in the product setting is selected.
The category browser now shows the category ID of the selected category
Removing the secondary category with a Revise operation works now
When using the "Update listings with same SKU" option during CSV or XML import, all listings with a matching SKU are updated

When importing listings from XML or CSV, you can now instruct GarageSale to just update existing listings from the data in the XML/CSV file, instead of importing them a second time.

The "Take Photo" from iPhone command in the Preview's context menu now works as expected

Use your iPhone or iPad to take a picture of your product and it appears instantly as a new image in your GarageSale listing. (Requires macOS 10.14 or higher)

Improved performance when uploading images to GarageSale image server
Launch Control window:

Added option for using multiple connections at the same time (faster upload)
Added option to upload listings with a specified minimum interval
Added context menu option to only display listings with or without errors
The "Start" button in the Launch Control window can now be triggered by pressing the Return key
Improved "Show listings with/without issues" command in context menu
When revising a listing's quantity on eBay, a warning is displayed if the new quantity exceeds the current quantity left

Import from eBay panel:

Added filters to only show certain types of listings (auction/fixed price item)
Added column "SKU" and "End date"
Added a "Remove design from description" checkbox, which strips GarageSale design HTML from the imported description
Added Advanced settings: You can narrow down what listings to import by specifying filters for data, category and SKU, thus reducing the wait time significantly
Added a "Hide Ended Listings" option to the view settings (gear icon)
Fixed a bug, that caused missing listings in the import panel

Attributes panel:

Added commands to insert missing attributes to the Attribute panel
Added command to update attribute suggestion to the Attribute panel

Preview Mode:

Now shows name and fee of the first selected shipping service
The "Create Link" button in the format toolbar can be used to modify existing links
Title character count now already appears on mouse-over
Image re-ordering works again

Editor Mode:

The number of images used in a listing is shown in Editor mode
Multiple images can be selected, dragged and reordered at once
cmd-delete keyboard shortcut works in image field in Editor mode
New "Code-Editor Preferences" available (context menu)
Size of image field can be changed
Multiple selected images can be rotated at once
Selecting multiple images while holding down the Shift key behaves more predictable
Orders
Added context menu entries in the Orders section outline view to change order state (e.g. 'shipped') for selected orders
Fixed an issue that prevented certain order states, e.g. "Paid", from being uploaded to eBay
Fixed bug that could prevent a single order from appearing in a Report
Added support for eBay's new order id format

eBay is in the process of changing the format of the identifier strings for incoming orders. GarageSale 8.1 adds support for the new format by contacting eBay using a newer version of their API. At some point in the future eBay will switch older versions of their API to the new order id format. Older versions of GarageSale using the old API don't know about the new format. Hence, these versions will show certain orders twice. To avoid this, please make sure to upgrade to GarageSale 8.1 in time.

Buyer phone number is now shown in inspector
Buyer name and address are now a single field for easy copying
Outline view: Instead of showing the buyer's name or listing title, you can now also choose to show the buyer's eBay account name (Preferences > Orders)
When exporting orders to a CSV file, commas are correctly escaped
If an order's shipping address contains a ReferenceID field, it is send to the Endicia postage software
Added an additional menu command for printing packing slips
You can now search for titles of sold listing and buyer emails in Orders mode
Added "Listings" and "SKU" columns to overview table in the Orders section
Preferences
Added a new Preference settings (under eBay > Advanced) that prevents automatic switching to 'Live' mode when listings are started
Added "Zoom to Fit when Opening" preference for the Image Editor

When disabled, the Image Editor will open at the last used zoom level

Now offering multiple default footer layouts to choose from
Added option to specify the attributes panel's behaviour when item specifics are empty (insert suggested, insert required, insert no attributes)
Added setting to only perform local verification in Launch Control window (and prevent verification with eBay)
Added a "Select new listings after relist" option in the advanced eBay preferences
Maximum image size when using GarageSale's image hosting is now 1600x1200px
Increased image limit of GarageSale's image hosting from 20 to 50 images for GarageSale Pro
Added preference to show buyer's eBay account name in orders outline view
Added 6 hours, 12 hours, 1 day, and 1 week as additional durations for automatic order update in the Order preferences
You can set the update interval for the Auto-Cancel feature in the eBay > Advanced preferences.
Accounts Window
Click on the "Reply" button in a received eBay message opens the outgoing message window in GarageSale
Smart Groups
Improved performance of (smart) groups with a large number of listings
Smart groups containing certain rules for amount values (e.g. buy it now price = 64.99) now work correctly
If you hold down the option/alt key while opening the smart group editor, all values in the property popups are sorted alphabetically.
Added a sort order option for smart groups
Added "Days Remaining" smart group rule to the listing section
Changed the default smart group behaviour when searching in text fields to require the exact search string, no more double-quotes required to activate that special mode
Added "Global Status" rule
Added "Uses Variations" rule
Apple Script
Added AppleScript command to manipulate shipping weights
Access to eBay Order properties
Added AppleScript command (and example script) to remove images from listings
Can now upload tracking number via AppleScript
Improvements to AppleScript execution speed
Pricing:
US$ 14.99 (Monthly Subscription)
US$ 39.99 (Single User License)
US$ 65.99 (Family License)
eBay Account Requirements:
Due to eBay policies your account must be older than 90 days and have at least 10 feedback points as a seller.
Supported Marketplaces:
eBay (20 countries)
eBay USA
eBay Motors (USA)
eBay Germany
eBay UK
eBay Australia
eBay Italy
eBay France
eBay Austria
eBay Canada
eBay Switzerland
eBay Ireland
eBay Spain
eBay Netherlands
eBay Belgium (FR)
eBay Belgium (NL)
eBay Singapore
eBay Philippines
eBay India
eBay Hong Kong
eBay Poland