GarageSale
Make your business on eBay. On a Mac.
Comfortably create, launch and track your listings. Manage your sales and inventory. Simplify your eBay life and use the most advanced eBay seller tool for Mac.
Upgrading from GarageSale 7
Live Listings

Number of active eBay listings created with GarageSale

New in GarageSale 8GarageSale 8 introduces many new major features, significant performance improvements and the new "Pro" subscription service. See below an overview over the most important changes.
Synching
If you work with GarageSale on several Macs you might find the new Synching feature helpful. Once enabled your GarageSale database will be synched between your Macs. The Synching feature requires a GarageSale Pro subscription.
Please visit the
Synching
chapter in the help for all details.
Drastic Performance Improvements
GarageSale's overall performance has been improved drastically. Searching, evaluating of smart groups, generation of reports and processing data from eBay is faster than ever. You'll feel the difference compared to previous versions.
GarageSale Pro
GarageSale Pro
is a new subscription service, ideal for sellers with a high sales volume and everyone who wants to be able to sync their GarageSale data between different Macs.
Free major upgrades
Unlimited listing starts
Database Synching between Macs
Use GarageSale's image service for GTC listings
GarageSale's image service supports up to 50 large images per listing

Dark Mode
GarageSale 8 adds support for the macOS Dark Mode appearance.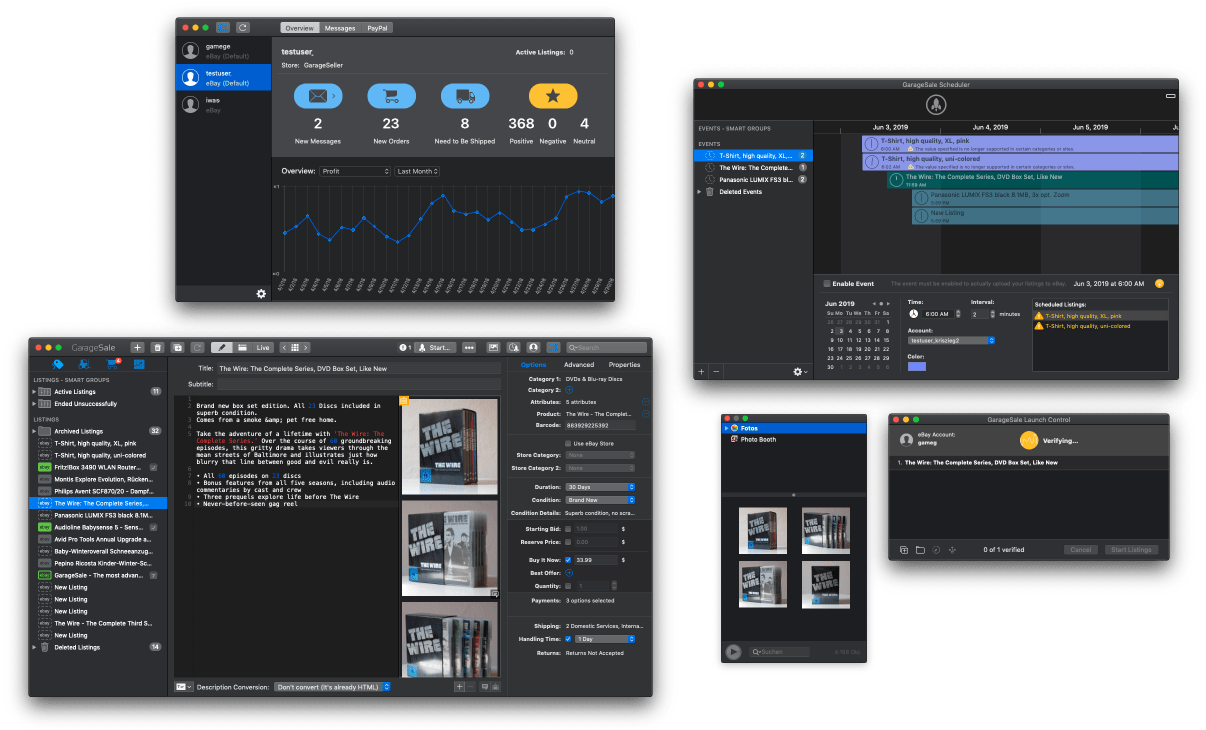 Customizable Listing Icon Colors
Listing icons in GarageSale's left outline view are now fully customizable. You can define a custom color for each listing state and in addition display colored title backgrounds to make different listing states even more distinguishable.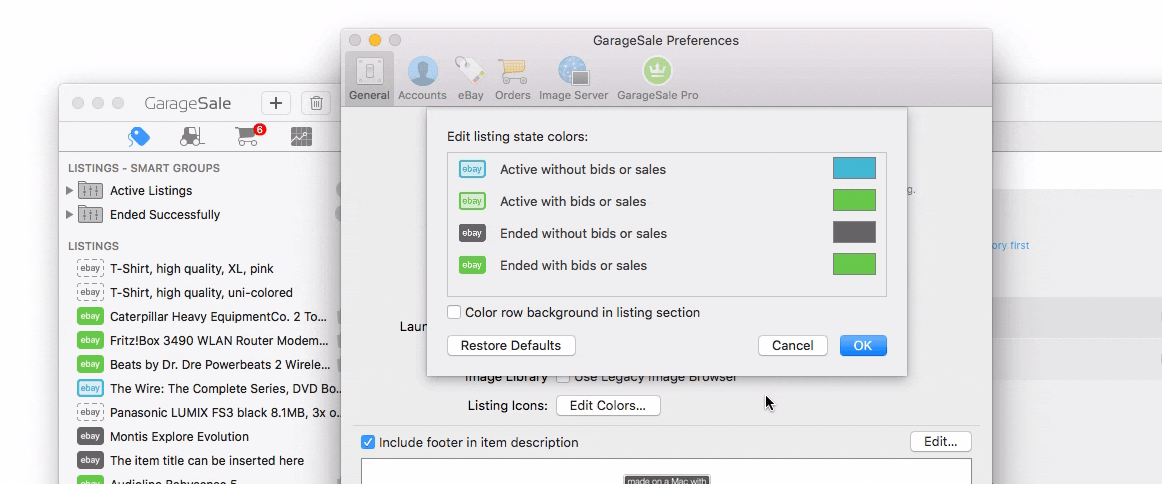 Packing Slips and Address Labels
Print generic shipping labels or packing slips that you can add to the shipment or use them to find the ordered items in your warehouse. You have a label printer? Simply print the buyer's address using the address label template (29mm).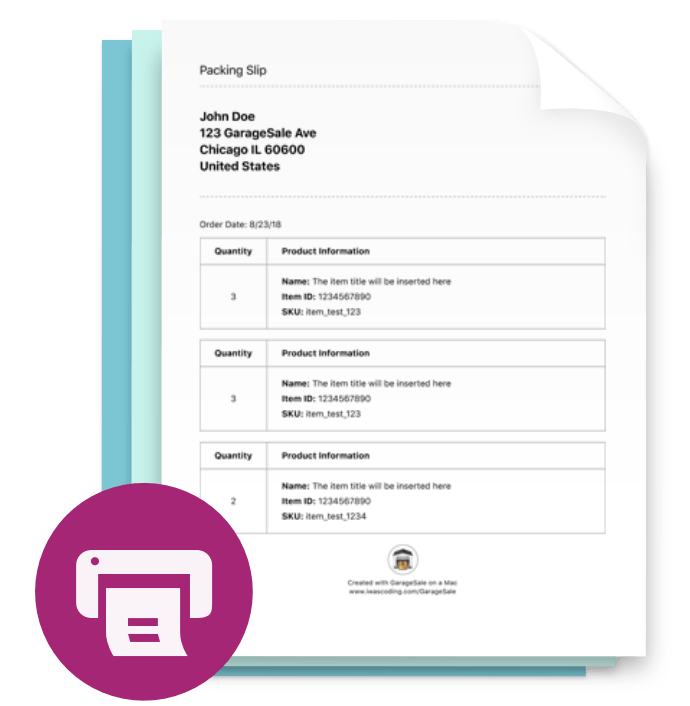 Detachable Popover Windows
You can "detach" a popup from its original position and move it to a permanent location on your screen. Great for preventing it from auto-closing while switching to another app or for working on multiple listings at the same time.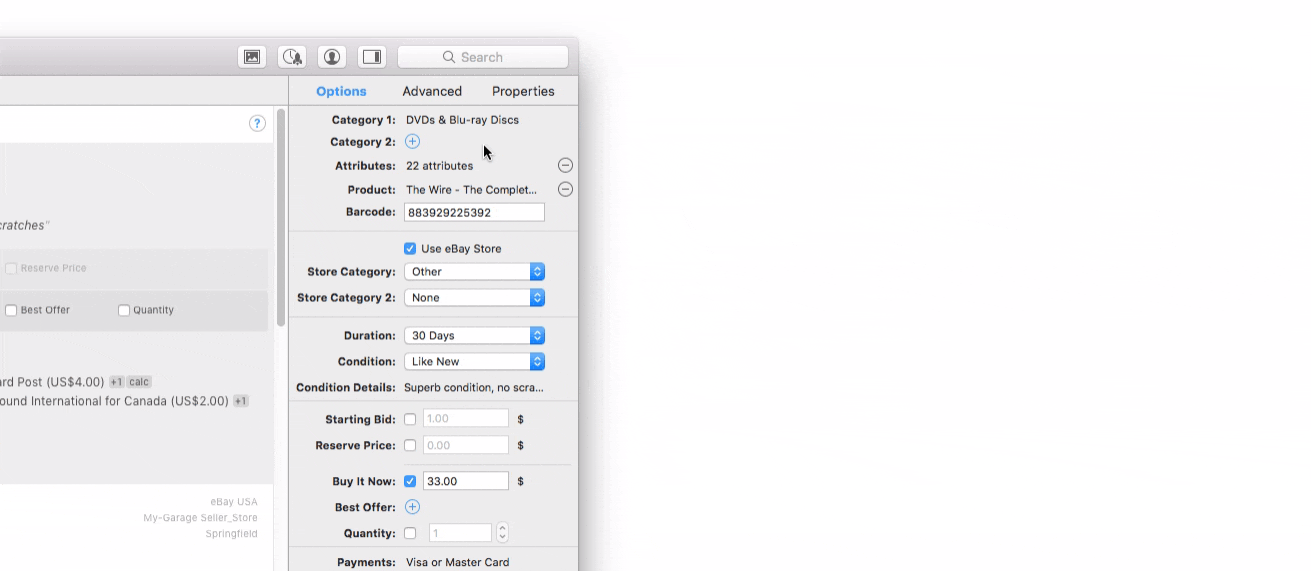 Bulk Find and Replace
GarageSale 8 comes with a powerful search and replace function that works on the entire database or the current selection. Easily edit title, description and other fields of all your listings in one go. (You find this new feature in the Edit menu.)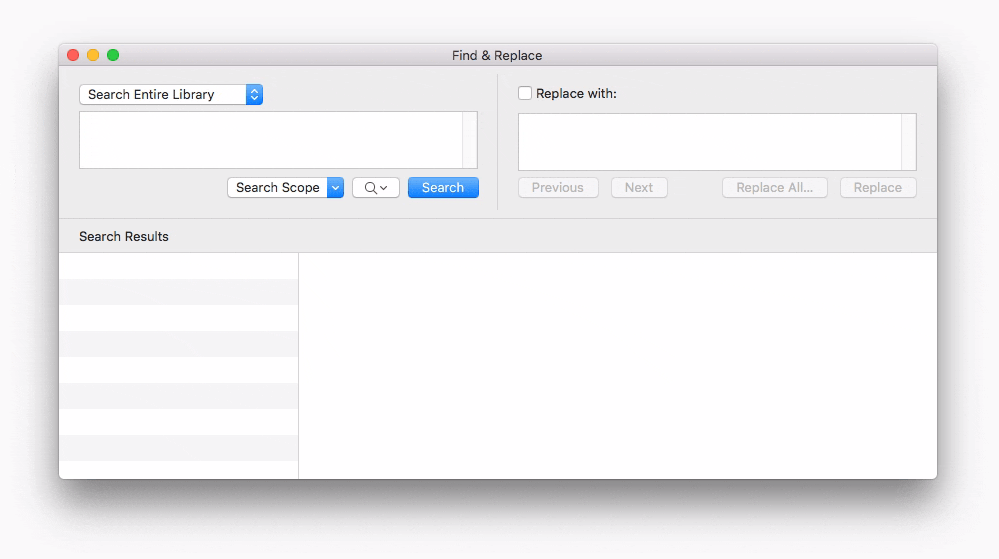 Apply Current Changes from eBay
You made changes on your listing outside GarageSale? That's no longer a problem! Simply compare your local listing and listing on eBay and apply selected changes to your local listing in GarageSale.
(You find this new feature in the Listing menu.)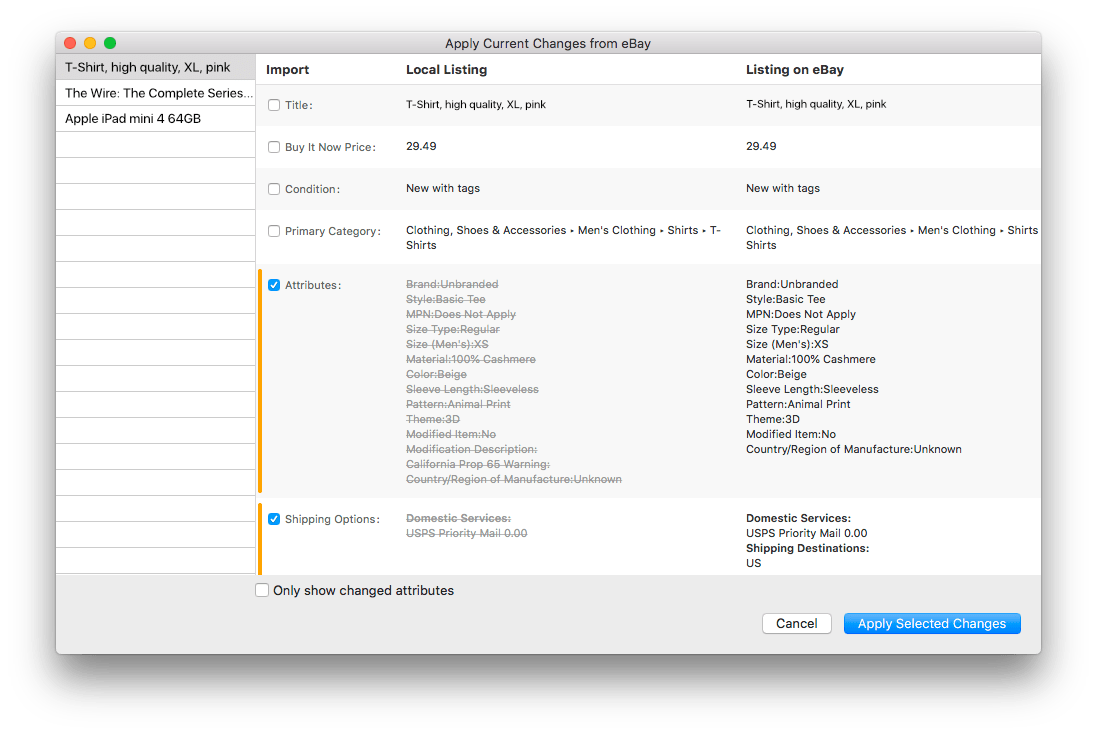 Reworked Design Templates
Mobile-friendly and fully responsive to different screen sizes (smartphone, tablet, computer)
Modernized graphics, improved for retina displays
Styles: Most of the designs now come with different styles to choose from (in Properties Inspector)
Image Zoom: Images are now zoomable in many layouts
New option to use the image name as the image 'alt' attribute (advanced option)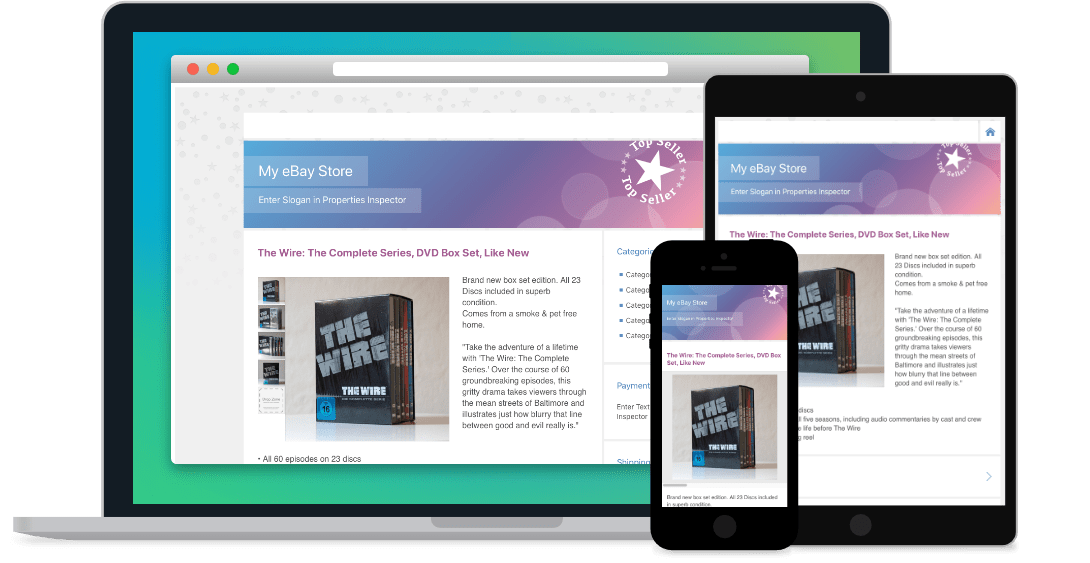 Support for Continuity Camera
On macOS 10.14 Mojave and higher GarageSale supports the "Continuity Camera" feature. Use your iPhone to take a picture of your product and it appears instantly as a new image in your GarageSale listing.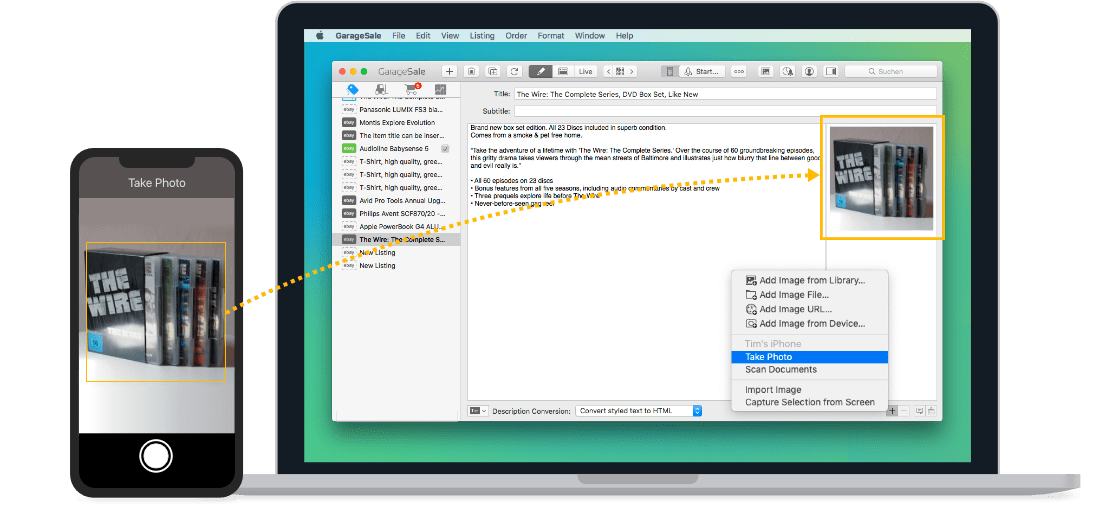 Create Invoices With GrandTotal
You can now create invoices by sending the data from your orders to the GrandTotal invoice application.

More improvements
Workflow
Added "Move Selected Items to" command (in "Edit" and outline view context menu) to easily move selected items to a different group in the outline view
Added menu commands to cycle cursor focus between different parts of the main window
Added menu command (cmd-shift-F) to switch the keyboard focus to the search field
Added "Show Main window" menu command in case you accidentally closed it
Implemented a work-around for broken drag and drop from Apple's Photos application
On macOS 10.13 or later, a faster media panel is used for browsing images from Apple's Photos application
Improved selection behaviour, so items selected in the outline view get immediately selected in the overview (middle area of the window)
When adding new groups, name fields in outline view get selected for easy editing
Improved UI, refreshed icons
Listings
Added a popup in listing overview area for quickly filtering items by state
The "Private Auction" option was re-added
Added options for international returns
Product settings can update listing title/category from chosen product from eBay's catalog product
Size of thumbnail images can be changed in image overview mode via a slider at the bottom
Moved SKU field to first tab of Listings inspector
Removed outdated buyer requirements no longer supported by the eBay API
When using no design, improved HTML code is used for displaying your images below the description
Error message for eBay error 240 shows additional error reason, if sent by eBay
Added Revise, Relist, and End commands to overview context menu
Now always correctly sends "Returns Not Accepted" flag to eBay when "Returns Accepted" checkbox is not selected.
When importing listings from XML files, paths to local files can be specified
The "Paste Listings Components" command lets you now paste images, too
Shipping service table column in shipping options panel is resizable
Shipping services can be hidden via the "Show/Hide" command from the bottom of the "Shipping Service" popup menus
The "Recently Used" menu in the category browser now gets updated properly
Launch Control window:

Added option for using multiple connections at the same time (faster upload)
Added option to upload listings with a specified minimum interval
Added context menu option to only display listings with or without errors
The "Start" button in the Launch Control window can now be triggered by pressing the Return key

Import from eBay panel:

Added filters to only show certain types of listings (auction/fixed price item)
Added column "SKU" and "End date"

Attributes panel:

Added commands to insert missing attributes to the Attribute panel
Added command to update attribute suggestion to the Attribute panel

Preview Mode:

Now shows name and fee of the first selected shipping service
The "Create Link" button in the format toolbar can be used to modify existing links

Editor Mode:

New "Code-Editor Preferences" available (context menu)
Size of image field can be changed
Multiple selected images can be rotated at once
Selecting multiple images while holding down the Shift key behaves more predictable
Orders
Buyer phone number is now shown in inspector
Buyer name and address are now a single field for easy copying
Outline view: Instead of showing the buyer's name or listing title, you can now also choose to show the buyer's eBay account name (Preferences > Orders)
When exporting orders to a CSV file, commas are correctly escaped
If an order's shipping address contains a ReferenceID field, it is send to the Endicia postage software
Preferences
Now offering multiple default footer layouts to choose from
Added option to specify the attributes panel's behaviour when item specifics are empty (insert suggested, insert required, insert no attributes)
Added setting to only perform local verification in Launch Control window (and prevent verification with eBay)
Added a "Select new listings after relist" option in the advanced eBay preferences
Maximum image size when using GarageSale's image hosting is now 1600x1200px
Increased image limit of GarageSale's image hosting from 20 to 50 images for GarageSale Pro
Added preference to show buyer's eBay account name in orders outline view
Added 6 hours, 12 hours, 1 day, and 1 week as additional durations for automatic order update in the Order preferences
Accounts Window
Click on the "Reply" button in a received eBay message opens the outgoing message window in GarageSale
Smart Groups
Added a sort order option for smart groups
Added "Days Remaining" smart group rule to the listing section
Changed the default smart group behaviour when searching in text fields to require the exact search string, no more double-quotes required to activate that special mode
Apple Script
Access to eBay Order properties
Added AppleScript command (and example script) to remove images from listings
Can now upload tracking number via AppleScript
Improvements to AppleScript execution speed
System Requirements:
10.12 and up
Pricing:
US$ 14.99 (Monthly Subscription)
US$ 39.99 (Single User License)
US$ 65.99 (Family License)
eBay Account Requirements:
Due to eBay policies your account must be older than 90 days and have at least 10 feedback points as a seller.
Supported Marketplaces:
eBay (20 countries)
eBay USA
eBay Motors (USA)
eBay Germany
eBay UK
eBay Australia
eBay Italy
eBay France
eBay Austria
eBay Canada
eBay Switzerland
eBay Ireland
eBay Spain
eBay Netherlands
eBay Belgium (FR)
eBay Belgium (NL)
eBay Singapore
eBay Philippines
eBay India
eBay Hong Kong
eBay Poland