GarageTunes
Play music from every Mac in your network and use any connected Mac as a speaker.


Buy
License: $4.99

Download Now
Version 2.0 Beta 2
What's New
New in Version 2.0 Beta 2(2015-02-24):

completly rewritten to reduce RAM memory usage for users which larger libraries
for 10.10 and up
Music player
GarageTunes is a lightweight and fast music player for single users and groups. It's ideal for listening to music at work or at home with your friends: It lets you listen to music files on any Mac running GarageTunes in your local network.

It finds all music files (mp3 and AAC) currently on your hard disks (internal and external). Songs appear automatically in GarageTunes as you add them to your hard drive and disappear when removed.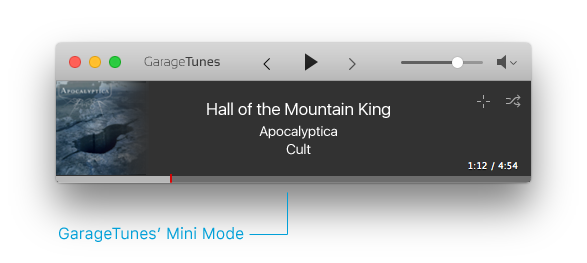 Connected
GarageTunes lets you listen to music files on other Macs running GarageTunes in your local network.
It gives you a consolidated view of all music files shared by other clients. Also, you can access and share all songs stored on your external hard drives! And of course, GarageTunes plays your local tunes, too.

Songs are dynamically updated as Macs connect to your LAN or external hard drives connect to your Mac.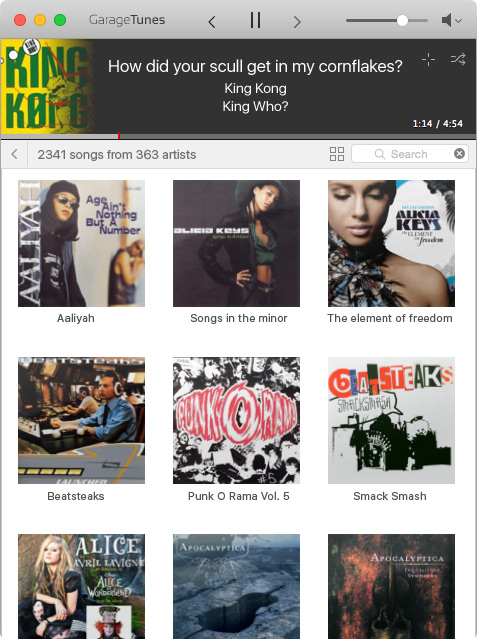 Streaming built-in
Use any Mac in your local network as a speaker!
Each Mac running GarageTunes on your LAN can be used as speaker from every other client. This allows you to play songs from any sources on any Mac in your household or firm.

Library-less
Don't worry, you don't have to spend time to built up a new music library. GarageTunes is library-less and automatically displays all songs it finds on your local Mac, connected Macs or external hard drives. All without lifting a finger!

GarageTunes uses the Spotlight engine to find and display all available music files. All mp3 and AAC files will be shown automatically (not only your iTunes library).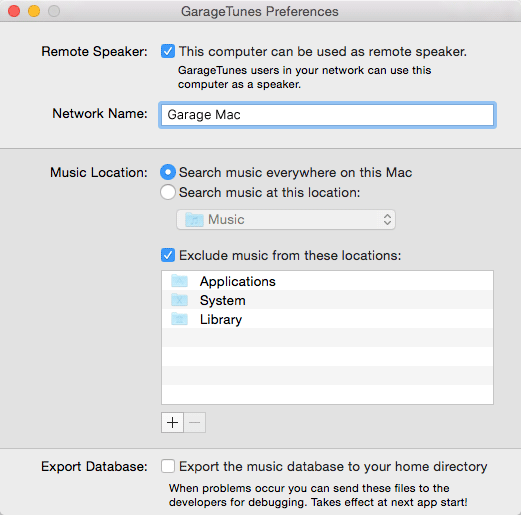 System Requirements:
10.10 and up
Pricing:
US$ 4.99 (Single User License)

Test it for free
You can
download
and test GarageTunes without buying a license. The free demo version of GarageTunes allows 10 minutes of usage.

Helpful Links:
User Forum
Lost your license?
Help
Follow us on Twitter