Best Newcomer Q1/Q2 2005
At the eBay Germany developer day last Friday GarageSale received the award for "Best Newcomer Q1/Q2 2005". We also learned that among all third-party tools used to create auctions on the eBay Germany website GarageSale is on #10. Not bad for a small company on an operating system that is supposed to have around 5% market share. These numbers also mean, that we can now officially call GarageSale "the leading eBay tool for the mac".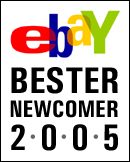 Thank you all for using GarageSale and for giving us your feedback. Without you guys nothing of this would have been possible.