GaragePay
PayPal at a Glance - on your Mac


Buy
License: $9.99

Download Now
Version 1.7.5
What's New
New in Version 1.7.5(2015-04-24):

fixes a connection error when communicating with the eBay API server
for 10.9 and up
License Options
Single User License
You can use this license on up to two Macs if you are the only one using it.US$ 9.99
Currency depends on your location. Additional tax (VAT) may apply depending on buyer's location.
To purchase a license simply open GaragePay and choose "Buy License..." from the "GaragePay" menu. This opens the built-in license store.
Contact us
if you have any questions.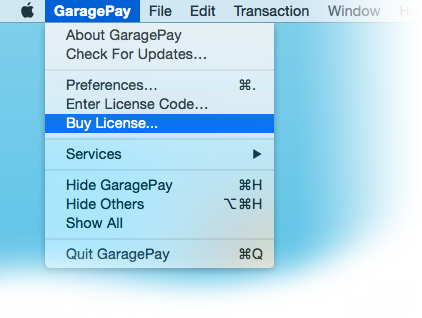 System Requirements:
10.9 and up
Pricing:
US$ 9.99 (Single User License)
PayPal Account Requirements:
GaragePay requires a PayPal Business or Premier account

Helpful Links:
User Forum
Lost your license?
Help
Follow us on Twitter