GaragePay
Der PayPal-Manager für den Mac


Kaufen
Preis: €9.99

Download
Version 1.8.1
Was ist neu?
Neu in Version 1.8.1(2019-10-01):

the order of accounts in the preferences will be reflected in the main window
correctly signed for MacOS 10.15 Catalina
fixes UI glitches in macOS 10.14 Mojave
fixes some wrong values in the CSV export
date values are properly imported from PayPal
für 10.12 und neuer
Lizenz-Optionen
Einzelplatzlizenz

Mit dieser Lizenz können Sie GaragePay auf zwei Ihrer Macs verwenden, solange Sie der einzige Nutzer sind.

€9.99
Die Währung ist von ihrem Land abhängig. Es können u.U. weitere Kosten wie z.B. Steuern anfallen.
Öffnen Sie GaragePay und wählen Sie "Lizenz kaufen..." aus dem "GaragePay"-Menü. Dies öffnet den eingebauten Lizenz-Store.
Kontaktieren
Sie uns einfach, wenn Sie weitere Fragen haben.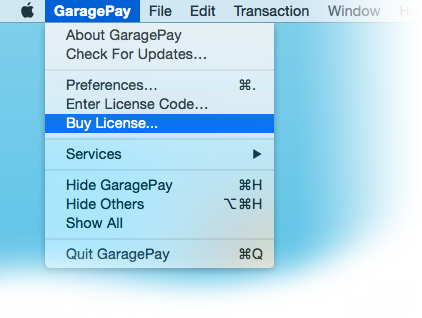 Systemanforderungen:
10.12 und neuer
Preise:
€9.99 (Einzelplatzlizenz)

PayPal Konto-Anforderungen:
Sie benötigen ein PayPal Business-Konto