GarageSale
Make your business on eBay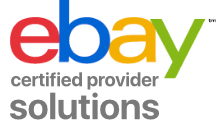 Buy
License: 39.99
Upgrade: 19.99

Download Now
Version 7.0.8
What's New
New in Version 7.0.8(2017-08-22):

HTML links created with the "Insert HTML Link" command will now open in a new browser window (as required by eBay's new active content rules)
the preferences for moving & duplicating items when starting auctions are now saved separately from those used when re-listing (this should prevent users who overlooked their still active 'Move To Trash' setting used when re-listing from getting confused next time their listing 'vanishes' into the Trash after uploading them to eBay
when GarageSale's free image server is used, GarageSale uses the https-protocol to embed links to your images into the item description (as will be the eBay requirement for all image links, soon)
added repair mode to relocate listings that are no longer present in GarageSale's current group hierarchy (hold down control key on app start to enable it, checking your database can take several minutes)
when a listing that is no longer part of the hierarchy is found while searching, clicking on it will re-insert it into the hierarchy
fixed a rare problem that could occur when a buyer ordered items from the same listing in two or more transactions with a single eBay order
the image context menu in editor mode now shows the image's dimensions
updated 'Icon Legend' in the Help menu
added support for a different flavour of eBay TurboLister CSV files
remembers the time interval you last selected in the built-in scheduler and uses it for new events
will display a local error when user enabled eBay's 'Global Shipping Program', but lists in a category where GSP is not supported
addresses a crash during outline view manipulation (e.g. duplication or re-listing) under low memory conditions
fixed crash when trying to end a listing, for which GarageSale does not have account information
fixed an issue when verifying your PayPal API signature
fixed an issue where the 'Download images' flag in the 'My eBay Import' panel was ignored
fixed a problem which caused not all charity organisations supported by eBay to appear
fixed a bug that caused the launch control window to close when listings were uploaded by a background task
no longer shows duplicate error panels when entering incorrect numbers into value fields in the inspector
a few documented commands in GarageSale's built-in design language didn't work. This has been fixed
improved error handling when listings from GarageSale 6 fail to import
we finally found and fixed a bug that could cause wrong listing titles to be inserted when switching between listings
the 'Bold' listing enhancement can be removed during revise
listing verification is retried up to 5 times when eBay responds with the 'internal error to the application' error
fixed a possible crash when trying to duplicate an item that is already contained in a smart group
the Thumb Zoom layout works again in eBay iOS App
for 10.10 and up
Listing Counter

This is the number of all currently running eBay listings, created with GarageSale. This makes it the most popular eBay tool for Mac!
License Options
Single User License
You can use this license on up to two Macs if you are the only one using it.US$ 39.99
Family License
Allows the installation of GarageSale on up to 5 computers in your household or company.US$ 65.99
Upgrade Licenses
Single user license upgrade from a previous GarageSale version.US$ 19.99
Family license upgrade from a previous GarageSale version.US$ 24.99
Currency depends on your location. Additional tax (VAT) may apply depending on buyer's location.
To purchase a license simply open GarageSale and choose "Buy License..." from the "GarageSale" menu. This opens the built-in license store.
Upgrade license:
GarageSale 7 is the first paid upgrade since 2010. If eligible, GarageSale will offer you the upgrade license in the license store.
Free upgrade license:
If you purchased your GarageSale 6 license directly from iwascoding after August 1st 2015, you are eligible for a free upgrade to GarageSale 7. GarageSale 7 will offer you a free license once you start the purchase flow within the application. Unfortunately this free upgrade is not available for customers who bought GarageSale from the Mac App Store.
Contact us
if you have any questions or check our
FAQs
.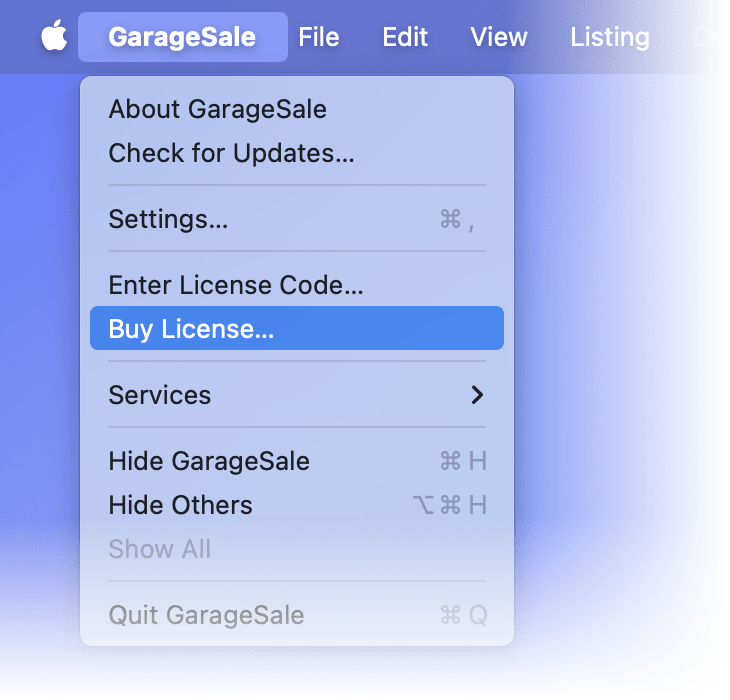 System Requirements:
10.10 and up
Pricing:
US$ 39.99 (Single User License)
US$ 65.99 (Family License)
eBay Account Requirements:
Due to eBay policies your account must be older than 90 days and have at least 10 feedback points as a seller.
Supported Marketplaces:
eBay (20 countries)
eBay USA
eBay Motors (USA)
eBay Germany
eBay UK
eBay Australia
eBay Italy
eBay France
eBay Austria
eBay Canada
eBay Switzerland
eBay Ireland
eBay Spain
eBay Netherlands
eBay Belgium (FR)
eBay Belgium (NL)
eBay Singapore
eBay Philippines
eBay India
eBay Hong Kong
eBay Poland

This is the number of all currently running eBay listings, created with GarageSale. This makes it the most popular eBay tool for Mac!

See listings created with GarageSale