How much?
A Single User License for GarageSale is available for US$/EUR 39.99*. You can use this license on up to two Macs if you are the only one using it.

A Family License, that allows the installation of GarageSale on up to 5 computers in your household or company, is available for US$/EUR 65.99*.
Upgrades:
Single user licenses from previous GarageSales versions can be upgraded to GarageSale 6 at USD/EUR 16.99*.
Previous family licenses can be upgraded to a GarageSale 6 family license at USD/EUR 21.99*.
GarageSale 5 users, who purchased their license or upgraded their previous license to GarageSale 5 after April 1st, 2010 are eligible for a free upgrade to GarageSale 6.
* Currency depends on your location. Additional tax (VAT) may apply depending on buyers location.
How do I get a license?
To purchase a license or upgrade a license from a previous version, or retrieve your free upgrade license,
please open GarageSale 6 and choose 'Buy License...' from the 'GarageSale' menu
.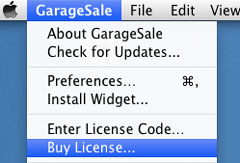 If you don't have a credit card you'll find additional payment options in GarageSale's built-in store.
Learn more about the built-in store in the GarageSale online manual.