GarageSale
Make your business on eBay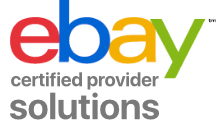 Buy
License: 39.99
Upgrade: 19.99

Download Now
Version 7.0.4
What's New
New in Version 7.0.4(2016-09-27):

the auto-relist feature will re-list with the remaining quantity of the ended listing
local verification of a hundreds of listings should no longer cause hangs
original listings can be moved to a specific folder during auto-relist
displays an error when the system prevents access to your Address Book
search results can be restricted to the selected group
drags from iPhoto are now working in editor mode in the listings section
you can export multiple listings as separate files by holding down the alt/option key while selecting the "Export Listings" menu item
listings are removed from search results when move to trash by choosing "Delete Listings"
fixed an issue where selected listing properties where copied to a newly created listing, when preview mode was active
items in search result can be duplicated
the 'Launch Control' window remembers what listing properties you selected for revise or re-list
fixed an issue where Re-List without changes was not working correctly
more image editing applications should be shown image context menu
using an inventory item's SKU in the variation panel will copy the barcode of that inventory item to the variation
added "sort results alphabetically" item to search options menu
searches should be a little faster
you can enable several events by holding down the option/alt key in the panel for missing scheduler events
preview reloads when you change the gallery image
the warning about missing quantity for auto-restart listings is only shown once for each ended listing
fixed a bug when importing orders which contained multiple items bought through auction-style listings
when duplicating an item, the auto-restart flag stays enabled
you can now create an arbitrary number of duplicated listings by holding down the control key when invoking the 'Duplicate' command
added button for adding buyers to your address book to orders section
start date and listing fee of linked listings are now shown in the listing table for inventory items
added an 'Tidy HTML' command to the context menu of the Editor text mode in the listing section
fixed a possible crash on macOS Sierra when overview mode was invoked
the 'Import from My eBay' panel can now filter for active, sold, unsold, and already imported listings
fixed a graphical glitch in the 'Launch Control' window that prevented the 'Verifying' icon from appearing
invoking the 'Update all listings' command preserves the selection in the outline view
fixed a bug that prevented ended listing from being moved into groups contained in Trash
when revising a running listing on eBay, 'Condition Details' can be selected as a separate property for revision
groups that were opened during a drag and drop operation close after the operation finished
fixed a problem with the 'cost of delivery' fields currency (eBay Italy only)
preview generation no longer stalls when category data download fails because of an invalid eBay token
the 'Add URL Image' command is now available from Preview mode in the Listings section
fixed a bug where some listing settings were not carried over to eBay, when the settings were changed after the 'Launch Control' window for the listing had been opened
now longer reports an 'missing image' error when you are listing with an image from eBay's product catalog
cancelled orders are not shown anymore
for 10.10 and up
License Options
Single User License
You can use this license on up to two Macs if you are the only one using it.US$ 39.99
Family License
Allows the installation of GarageSale on up to 5 computers in your household or company.US$ 65.99
Upgrade Licenses
Single user license upgrade from a previous GarageSale version.US$ 19.99
Family license upgrade from a previous GarageSale version.US$ 24.99
Currency depends on your location. Additional tax (VAT) may apply depending on buyer's location.
To purchase a license simply open GarageSale and choose "Buy License..." from the "GarageSale" menu. This opens the built-in license store. If eligible, you can get your upgrade license there, too.
If you don't have a credit card please
contact us
for additional payment options.
Free upgrade license:
If you purchased your GarageSale 6 license directly from iwascoding after August 1st 2015, you are eligible for a free upgrade to GarageSale 7. GarageSale 7 will offer you a free license once you start the purchase flow within the application. Unfortunately this free upgrade is not available for customers who bought GarageSale from the Mac App Store.
Contact us if you have any questions.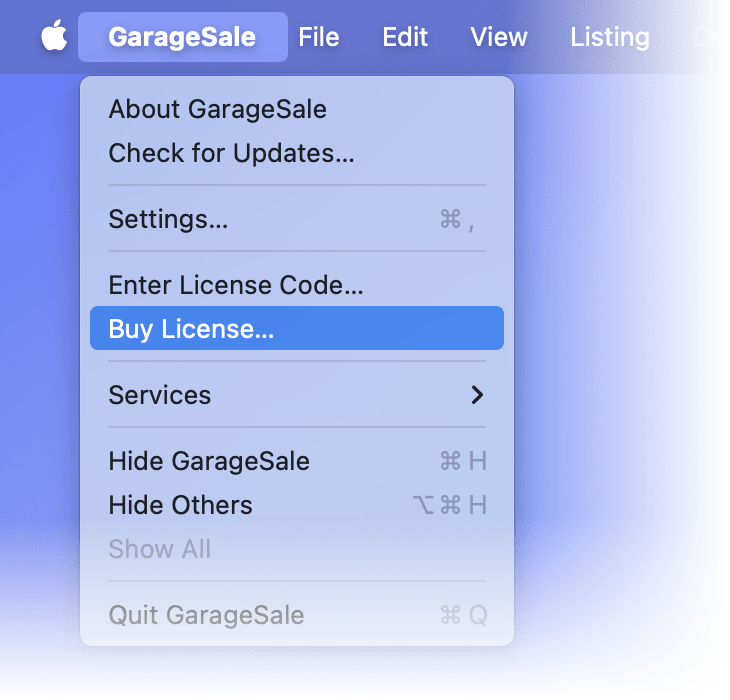 System Requirements:
10.10 and up
Pricing:
US$ 39.99 (Single User License)
US$ 65.99 (Family License)
eBay Account Requirements:
Due to eBay policies your account must be older than 90 days and have at least 10 feedback points as a seller.
Supported Marketplaces:
eBay (20 countries)
eBay USA
eBay Motors (USA)
eBay Germany
eBay UK
eBay Australia
eBay Italy
eBay France
eBay Austria
eBay Canada
eBay Switzerland
eBay Ireland
eBay Spain
eBay Netherlands
eBay Belgium (FR)
eBay Belgium (NL)
eBay Singapore
eBay Philippines
eBay India
eBay Hong Kong
eBay Poland

This is the number of all currently running eBay listings, created with GarageSale. This makes it the most popular eBay tool for Mac!

See listings created with GarageSale