GarageSale
Das eBay-Verkäufertool für den Mac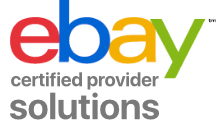 Kaufen
Vollversion: 39.99
Upgrade: 19.99

Download
Version 7.0.9
Was ist neu?
Neu in Version 7.0.9(2017-10-02):

GarageSale will no longer add clickable links to images it embeds into your listing description on eBay, as these links are no longer allowed by eBay.
adds an 'Repair Image Links" command for bulk replacing images links with image and the 'http' protocol with 'https'. This command is especially useful if you imported listings from My eBay, which contains image links and http images in the description. Make sure to use the "Revise" command active listings that got modified by the new command.
GarageSale will now warn you in case your listing description contains links to images or non-http images prior to listing, to make sure your listing adheres to eBay latests policies
performance improvements when selecting or duplicating a large number of listings
'New' menu in the main menubar now matches the 'New' popup menu in the main window's toolbar
the menu item for creating scheduler events from listing now a has account submenu like the 'Start listing' command when you have more than one eBay account authorised in GarageSale
added 'Cancel' button to 'Wait on Quit' panel
fixed a problem where changes to various amount fields weren't correctly reflected in smart groups
instead of uploading them again, GarageSale now re-uses images that were uploaded to a custom image server before its configuration was changed to use the HTTPS protocol for image download
fixed resizing quirks in the scheduler window
fixed a bug where immediately double-clicking a design in the design popover didn't select it
fixed a few bugs related to the text property popover
control-clicking in image overview mode on laptops now shows the context menu
fixes issues with updating paid designs to the latest version
fixed a problem with smart groups using the 'Best Offer' flag not updating correctly
fixed a problem with the built-in image editor not correctly appearing on macOS High Sierra
various crash fixes
für 10.10 und neuer
Aktuelle eBay-Angebote

Dies ist die Anzahl aktueller eBay-Angebote, die mit GarageSale gestartet wurden. GarageSale ist das erfolgreichste eBay-Programm für den Mac!
Lizenz-Optionen
Einzelplatzlizenz
Mit dieser Lizenz können Sie GarageSale auf zwei Ihrer Macs verwenden, solange Sie der einzige Nutzer sind.€39.99
Familienlizenz
Die Familienlizenz kann auf bis zu fünf Macs in Ihrem Haushalt oder Ihrer Firma genutzt werden.€65.99
Upgrade-Lizenzen
Upgrade von einer älteren Einzelplatzlizenz zu einer GarageSale 7 Einzelplatzlizenz.€19.99
Upgrade von einer älteren Familienlizenz zu einer GarageSale 7 Familienlizenz.€24.99
Die Währung ist von ihrem Land abhängig. Es können u.U. weitere Kosten wie z.B. Steuern anfallen.
Um eine Lizenz zu kaufen, wählen Sie einfach "Lizenz kaufen" aus dem "GarageSale"-Menü aus. Es wird sich daraufhin der Lizenz-Shop öffnen.
Upgrade-Lizenz:
GarageSale 7 ist das erste kostenpflichtige Upgrade seit 2010. Eine Upgrade-Lizenz kann für €19.99 direkt im Lizenz-Shop in GarageSale 7 erworben werden.
Falls Sie eine Lizenz für GarageSale 6 nach dem 1. August 2015 erworben haben, bieten wir Ihnen ein kostenloses Upgrade zu GarageSale 7 an! Im Lizenz-Shop sollte Ihnen automatisch eine kostenlose Upgrade-Lizenz angeboten werden.
Für Käufer der GarageSale-Version aus dem Mac App Store ist die kostenlose Upgrade-Lizenz leider nicht verfügbar.
Kontaktieren Sie uns einfach
, wenn Sie noch Fragen haben.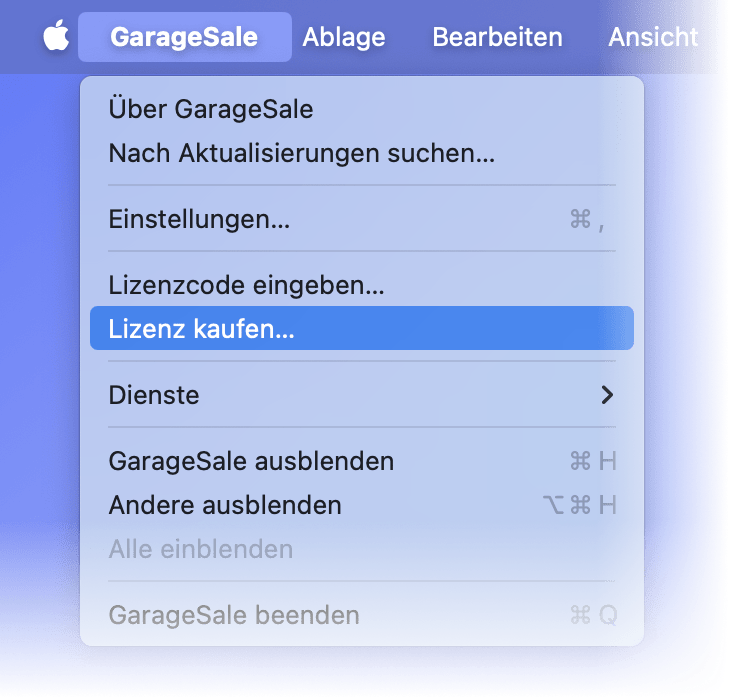 Systemanforderungen:
10.10 und neuer
Kaufen:
€39.99 (Einzelplatzlizenz)
€65.99 (Familienlizenz)
eBay-Anforderungen:
Gemäß eBay-Bestimmungen muss Ihr eBay-Konto älter als 90 Tage sein und mindestens 10 positive Bewertungen als Verkäufer erhalten haben.
Unterstützte Verkaufsplattformen:
eBay (20 Länder)
eBay USA
eBay Motors (USA)
eBay Deutschland
eBay UK
eBay Australien
eBay Italien
eBay Frankreich
eBay Österreich
eBay Kanada
eBay Schweiz
eBay Irland
eBay Spanien
eBay Niederlande
eBay Belgien (FR)
eBay Belgien (NL)
eBay Singapur
eBay Philippinen
eBay Indien
eBay Hong Kong
eBay Polen

Dies ist die Anzahl der Angebote, die mit GarageSale gestartet wurden und aktuell bei eBay verfügbar sind. GarageSale ist damit das erfolgreichste eBay-Programm für den Mac!

Aktuelle GarageSale-Angebote anzeigen