GarageBuy remembers which items you already looked at and for each search it will show the number of listings you haven't viewed yet.
The smart auto-read feature marks listings as read while you scroll and in addition you can hide listings you already looked at from search result. The perfect eBay browsing experience!
No need to jump back and forth between search result and listing view: Simply use the next/previous listing buttons in listing view to browse through the listings quickly.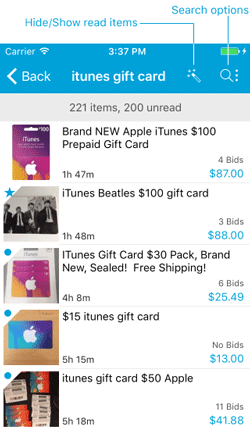 Setup sophisticated searches and find your favorite items in every nook and cranny of the eBay system. Easily fine-tune your searches to get the best results.
Of course, GarageBuy automatically saves all search settings for you.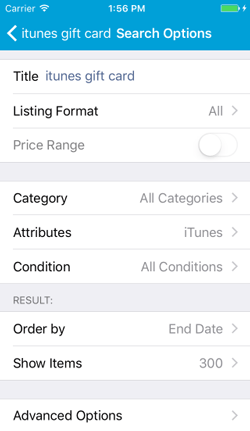 Place bids and purchase eBay items from within GarageBuy on your iPhone and iPad.
The bid panel provides you with a big countdown display. When you are bidding on an auction that has reached its final phase, GarageBuy will update the current bid status automatically.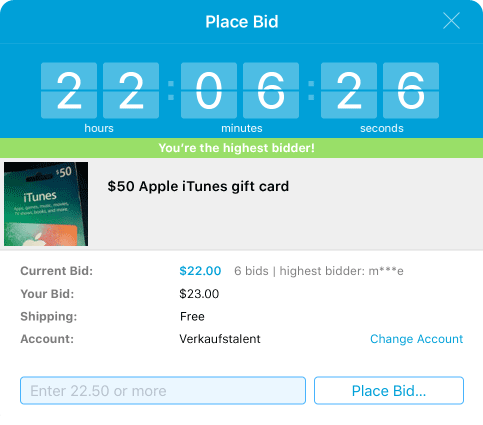 System Requirements:
iPhone or iPad with iOS 9.0 and up
Supported Marketplaces:
eBay (20 countries)
eBay USA
eBay Motors (USA)
eBay Germany
eBay UK
eBay Australia
eBay Italy
eBay France
eBay Austria
eBay Canada
eBay Switzerland
eBay Ireland
eBay Spain
eBay Netherlands
eBay Belgium (FR)
eBay Belgium (NL)
eBay Singapore
eBay Philippines
eBay India
eBay Hong Kong
eBay Poland
Free to use
GarageBuy is freeware!
Certified eBay-Client
GarageBuy uses eBay's offficial API.