GarageBuy
Search, track and buy eBay items


Download Now
Version 4.0.2
What's New
New in Version 4.0.2(2022-05-03):

GarageBuy is only available in the App Store, please use the link below to install the current version from the App Store.
for 10.12 and up
For Mac, iPad & iPhone
GarageBuy is a free app primarily targeted at collectors and power-buyers on eBay. It helps you to find, track, and purchase items on eBay.
You create powerful eBay searches and GarageBuy lets you know when new items appear in your saved searches and marks viewed items as read.
Your searches and favorite items are synched between GarageBuy for Mac and
GarageBuy Touch for iOS
.
GarageBuy 4 supports eBay's new API for searching (replaces the old, deprecated API) and it introduces a new subscription service called
GarageBuy Premium
for purchasing and bidding on listings as eBay stopped paying affiliate fees for successful bids. You can still use GarageBuy for free but for bidding and buying you then have to visit the eBay website.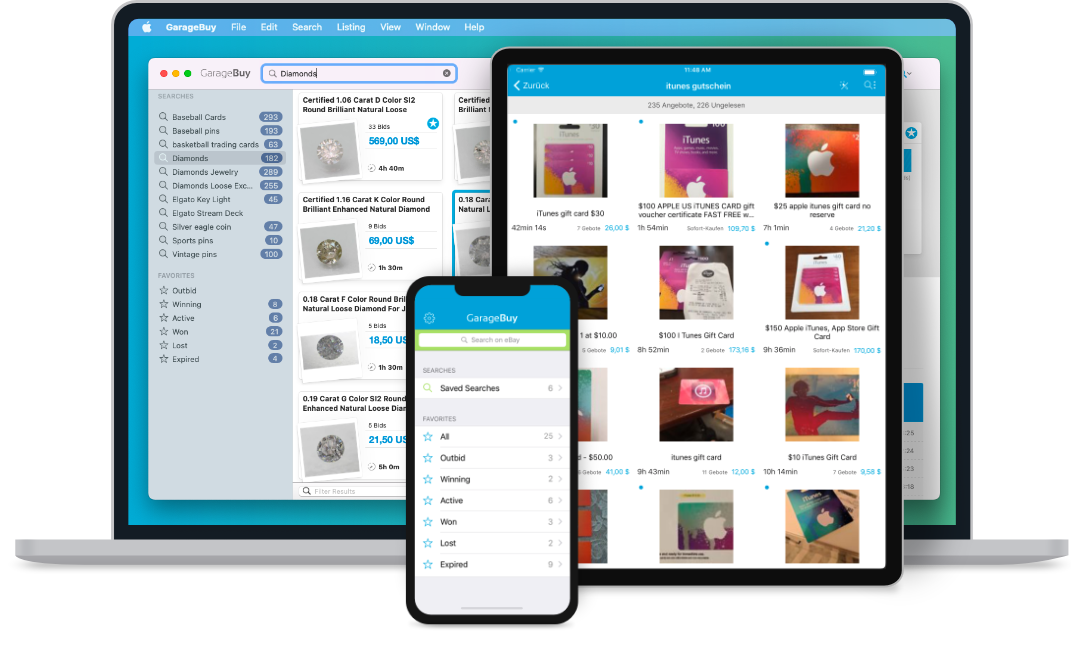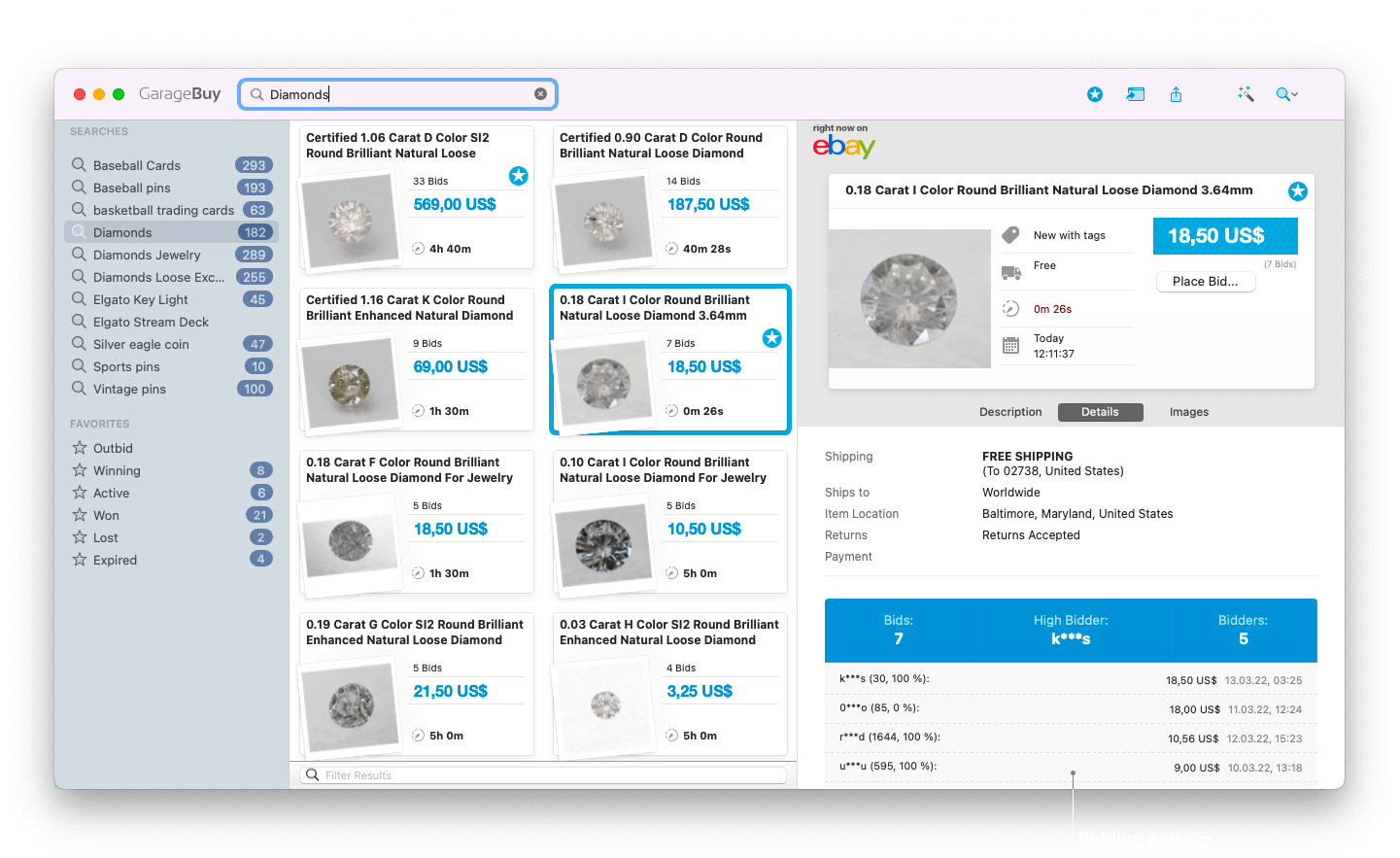 Search eBay efficiently
Setup sophisticated searches and find your favorite items in every nook and cranny of the eBay system. Easily fine-tune your searches to get the best results. For each search, GarageBuy will show the number of the auctions you haven't viewed yet.
GarageBuy remembers which items you already looked at. The smart auto-read feature marks listings as read while you scroll and in addition it can hide listings you already looked at from search result. The perfect eBay browsing experience!
If you use
GarageBuy Touch for iOS
your searches can get synchronized between your Mac and iOS devices through iCloud. It will also synchronize the list of items you already looked at, so you can focus on new items exclusively, no matter if you are on your Mac, iPad or iPhone. That's really smart, isn't it?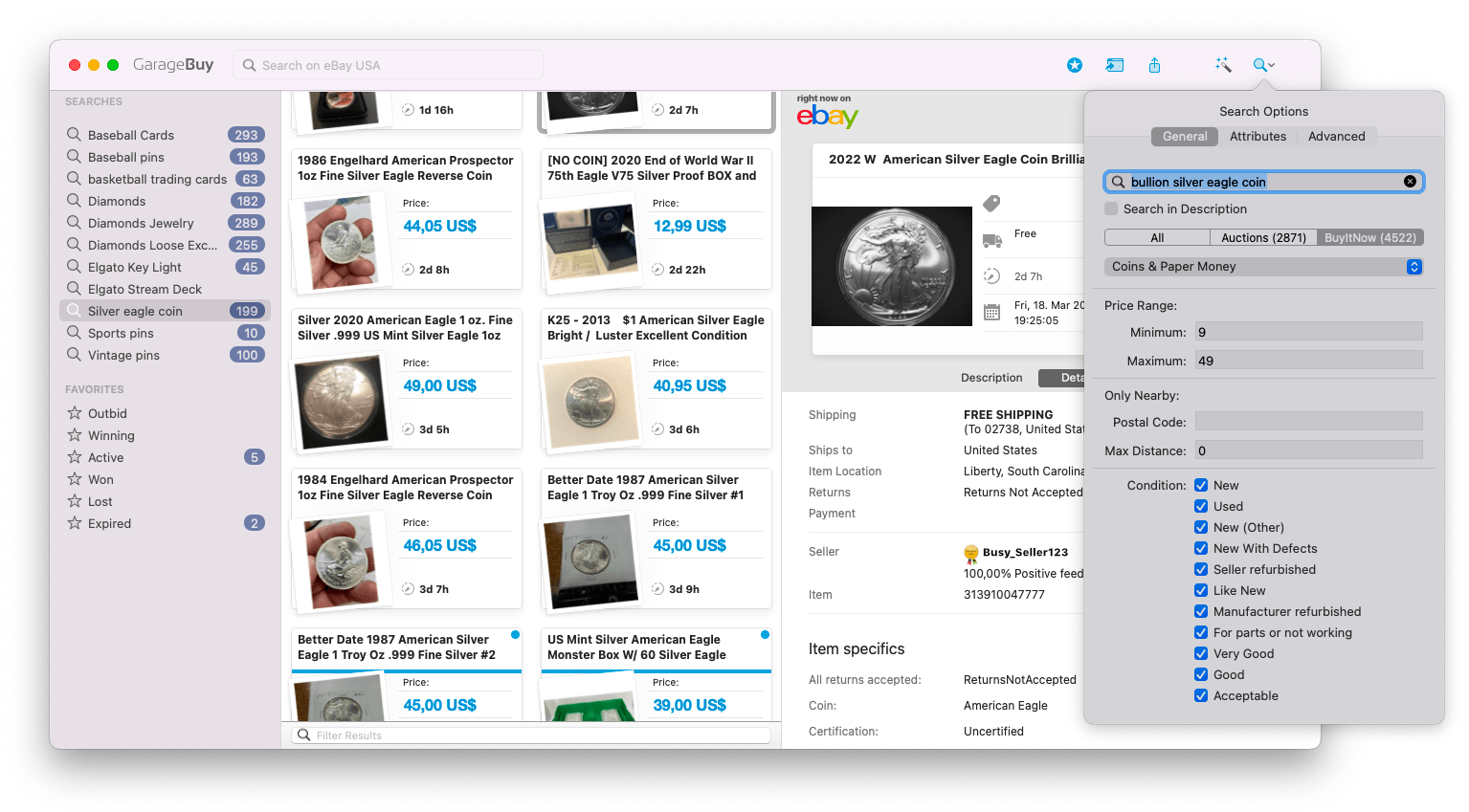 All your favorites at a glance
Easily add interesting items to your favorites. Mark any listing as a favorite by simply tapping on the star icon in the toolbar. GarageBuy organizes them for you so you always see how your favorite items are doing.

Watched and previously bought items will be imported from eBay. You can also add a favorite by simply entering the eBay item ID (Listing > Add Favorite With ID).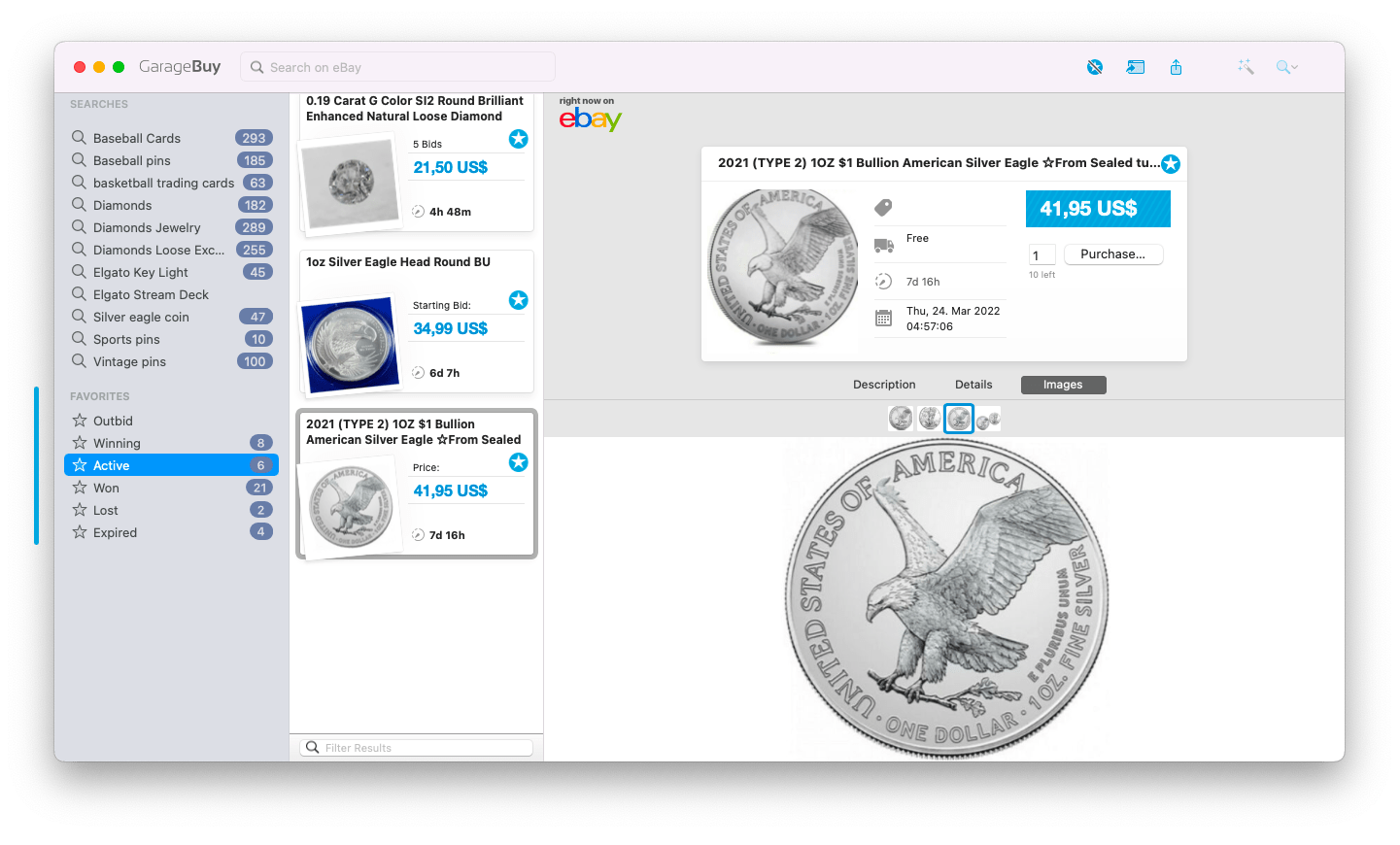 Place a bid or buy it now
Never miss a good deal again! Place bids to the second and buy your favorite items directly from within GarageBuy. This features requires a
GarageBuy Premium
subscription available via in-app purchase.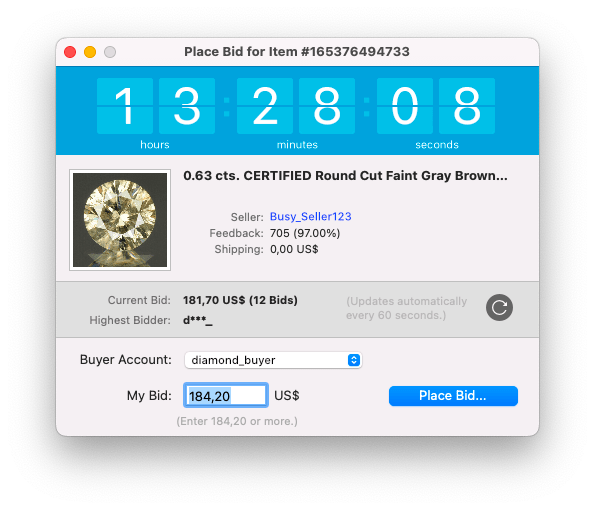 Dark Mode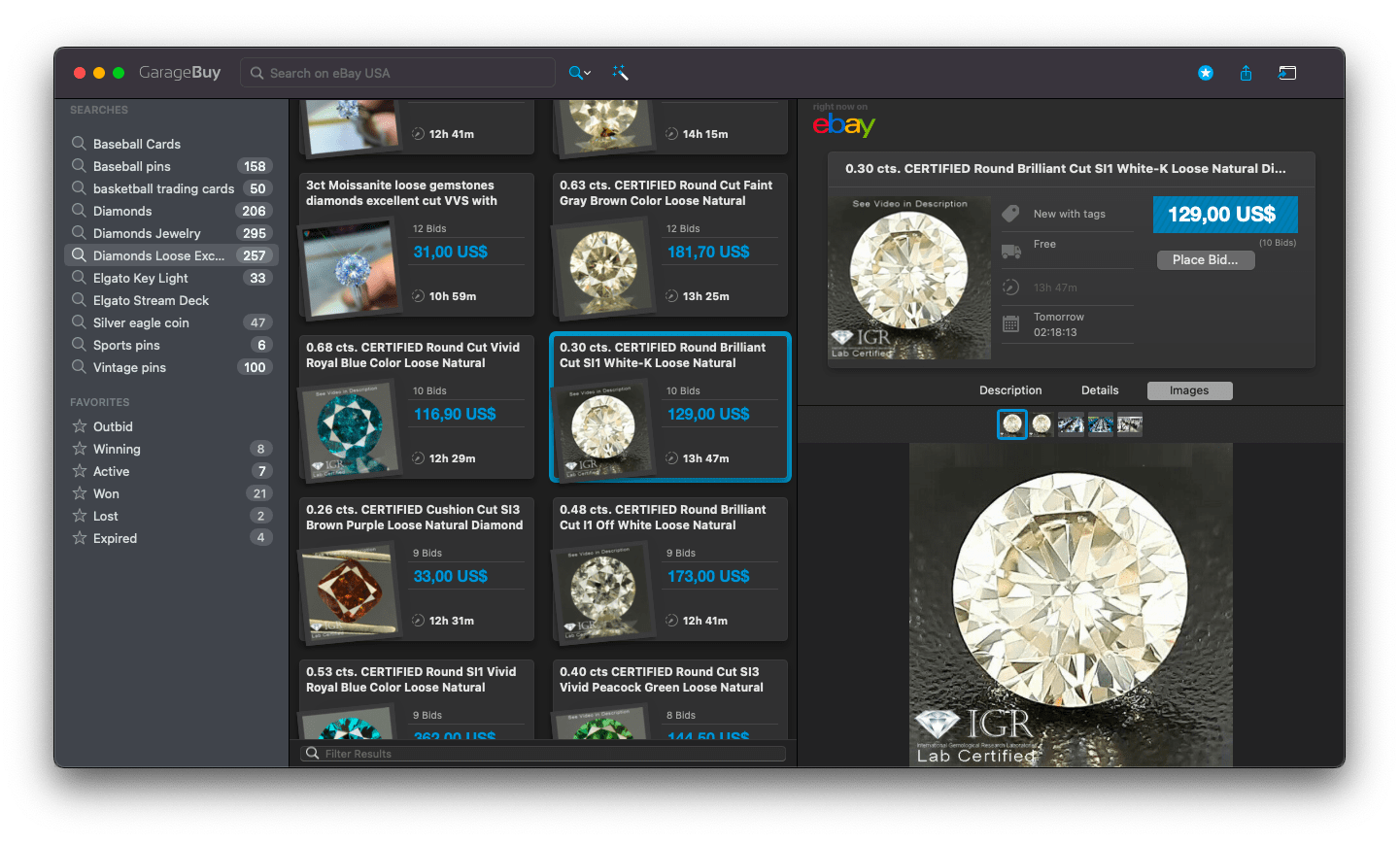 Get notified
Thanks to GarageBuy's push notifications feature you'll get notified when a listing ends or if you've been outbid. You can precisely control this feature in the GarageBuy preferences.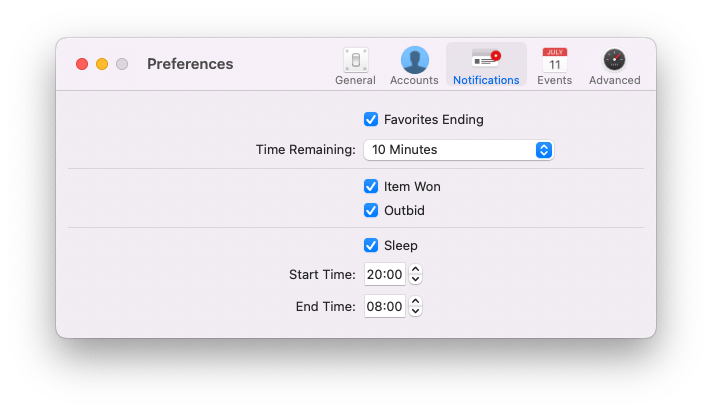 System Requirements:
10.12 and up
Pricing:
US$ 3.49 (Monthly Subscription)
Supported Marketplaces:
eBay (20 countries)
eBay USA
eBay Motors (USA)
eBay Germany
eBay UK
eBay Australia
eBay Italy
eBay France
eBay Austria
eBay Canada
eBay Switzerland
eBay Ireland
eBay Spain
eBay Netherlands
eBay Belgium (FR)
eBay Belgium (NL)
eBay Singapore
eBay Philippines
eBay India
eBay Hong Kong
eBay Poland
GarageBuy can be used for free.
Upgrade to
GarageBuy Premium
to enable bidding and buying directly from within GarageBuy.
Certified eBay-Client
GarageBuy uses eBay's offficial API.