GarageBuy
Auf eBay suchen, bieten und kaufen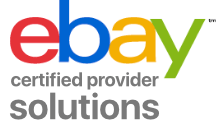 Download
Version 3.3.1b1
Was ist neu?
Neu in Version 3.3.1b1(2019-09-11):

can now add favorites with item IDs
correctly signed for MacOS 10.15 Catalina
für 10.11 und neuer
The Fastest, Most Convenient, Efficient, and Best Way to Do eBay on a Mac. GarageBuy, the first officially certified client for the Mac by eBay, is nothing short of awesome. Any user of eBay with a Mac should have this in their Applications folder. Light users to heavy users are going to thoroughly enjoy this eBay buyer manager. I know I am.

SvenOnTech.com

This is a great app - thank you! GarageBuy is a truly unique app in the eBay world that deserves recognition!

Christopher

very useful program. The search and bidding functionality is clean and easy to use. Best of all, it's free. Kudos to the developers!

MSTEG
Alle anzeigen

I downloaded GarageBuy, just the app I needed for my Ebay needs, so far it works great it searches and watches, great, i can even save my searches. Great utility for me.

JoaBel

Great program to search and keep track on large number of auctions.

KUKKIS
Auszeichnung von eBay für GarageBuy

Für den großen Erfolg hat eBay GarageBuy als 'Runner Up' in der 'Early Adaptor'-Kategorie auf der Star Developer Award Veranstaltung 2008 ausgezeichnet. Zum Artikel...

Review at SvenOnTech.com

The Fastest, Most Convenient, Efficient, and Best Way to Do eBay on a Mac. Zur Review...

Systemanforderungen:
10.11 und neuer
Unterstützte Verkaufsplattformen:
eBay (20 Länder)
eBay USA
eBay Motors (USA)
eBay Deutschland
eBay UK
eBay Australien
eBay Italien
eBay Frankreich
eBay Österreich
eBay Kanada
eBay Schweiz
eBay Irland
eBay Spanien
eBay Niederlande
eBay Belgien (FR)
eBay Belgien (NL)
eBay Singapur
eBay Philippinen
eBay Indien
eBay Hong Kong
eBay Polen

GarageBuy ist Freeware!
Laden und nutzen Sie es kostenlos.

Hilfreiche Links:
User Forum
Hilfe
GarageBuy für iOS
Auf Twitter folgen