Your mobile eBay app:
GarageSale on your Mac
more info ›››
Resources
GarageSale User Forum
Contact other GarageSale users and find the latest news in the
iwascoding user forum
.
Auctions created with GarageSale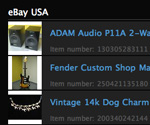 Have a look at
this page
to see active auctions created by GarageSale users.
This page lists the 20 most recently viewed eBay auctions created with GarageSale for each eBay site.
Supported eBay Sites
So far GarageSale supports the following eBay Sites:
eBay USA
eBay Germany
eBay Motors (US)
eBay Australia
eBay Austria
eBay Canada
eBay Switzerland
eBay Ireland
eBay UK
eBay France
eBay Spain
eBay Italy
eBay Netherlands
eBay Belgium (FR)
eBay Belgium (NL)
eBay Singapore
eBay Philippines
eBay India
eBay Hong Kong
Awards & Reviews
Our eBay Store Feedback
GarageSale for Mac is also sold at eBay, where we received more than 4000 feedback points so far. Please
take a look
at what some of our customers have say about our application.