GarageBuy touch
for iPhone & iPad
Search eBay efficiently! Don't look at uninteresting listings twice.
GarageBuy lets you stay on top of your eBay searches by remembering which items you already viewed. GarageBuy synchronizes your searches and viewed items between your iOS devices through iCloud.
Feature Overview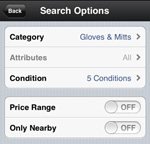 Setup sophisticated searches and find your favorite items in every nook and cranny of the eBay system. Easily fine-tune your searches to get the best results.
Of course, GarageBuy automatically saves your searches and search settings for you.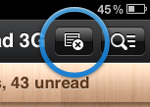 GarageBuy remembers which items you already looked at. The smart auto-read feature marks listings as read while you scroll and in addition it can hide listings you already looked at from search result. The perfect eBay browsing experience!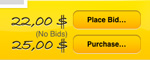 Never miss an auction again. Place bids and purchase eBay items from within the GarageBuy on your iPhone and Pad.
Check how your watched items are doing. Watched and previously bought items will be imported from My eBay.
Your eBay searches and viewed items can get synchronized through iCloud between the iPhone and iPad version of GarageBuy. This way you can focus on new items exclusively, no matter if you are on your iPad or iPhone. (Requires an iCloud account)
If you use GarageBuy's push notifications feature you'll get notified when a listing ends or if you've been outbid.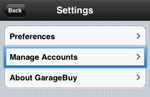 Use all your eBay accounts in GarageBuy! Add as many eBay accounts as you want in the preferences. Whenever you bid on an auction or purchase an item you can choose your desired account.