GarageSale
Make your business on eBay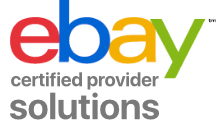 Buy
License: 39.99
Upgrade: 19.99

Download Now
Version 7.0.3
What's New
New in Version 7.0.3(2016-08-04):

buyer adresses can be added to your address book in the Orders section
performance improvements in Scheduler window
stopping a running eBay listing from within GarageSale will disable the automatic restart option
the 'Move Originals' option in the 'Launch Control' window can now move listings to the Trash folder
fixed a bug the prevented multiple listings from being imported to file
fixed an issue that would prevent listing from being started when automatic restart options was already enabled
Spotlight listing design: Optimized "1st Image On Top" layout for smaller screens, e.g. iPad
the category sorting preference in now reflected in more designs
various crash fixes
for 10.10 and up

System Requirements:
10.10 and up
Pricing:
US$ 39.99 (Single User License)
US$ 65.99 (Family License)
eBay Account Requirements:
Due to eBay policies your account must be older than 90 days and have at least 10 feedback points as a seller.
Supported Marketplaces:
eBay (20 countries)
eBay USA
eBay Motors (USA)
eBay Germany
eBay UK
eBay Australia
eBay Italy
eBay France
eBay Austria
eBay Canada
eBay Switzerland
eBay Ireland
eBay Spain
eBay Netherlands
eBay Belgium (FR)
eBay Belgium (NL)
eBay Singapore
eBay Philippines
eBay India
eBay Hong Kong
eBay Poland

This is the number of all currently running eBay listings, created with GarageSale. This makes it the most popular eBay tool for Mac!

See listings created with GarageSale